New Holland's Grassland and Muck Demos Run on Biodiesel
21/05/08
New Holland will be running all its working demonstration machines on biodiesel during the Grassland and Muck event.
New Holland FR9000 forager range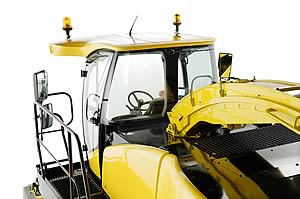 Supplied from a biodiesel tanker from FleetSolve Ltd, the latest FR9090 forage harvester and the new T6080 Power Command, both seen working for the first time at a UK show, will use biodiesel to illustrate New Holland's commitment to this alternative fuel source.

"For producing top quality silage, the awesome FR9090 will prove a crowd puller, as it demonstrates what can be achieved with the largest single engine forage harvester on the market today. Powered by the 824hp Iveco Vector 8 engine, this machine is capable of foraging where others dare to tread, a fact that was recently demonstrated in Ireland, where the FR9090 tackled 50 foot swaths of the toughest, longest grass, to the amazement of local contractors and farmers," said New Holland marketing manager, Dick Spencer. The FR9090 forage harvester is the largest model in the FR9000 range and this will be the only example in the UK for 2008.

The T6000 Range Command and Power Command models made their first public debut at New Holland's static LAMMA show stand, and garnered praise from the UK press and show visitors. Grassland and Muck visitors will be able to see the latest Power Command model in operation.

New Holland will offer customers the chance to reminisce as it displays a range of vintage machines alongside their modern counterparts. These machines will give visitors the chance to appreciate the strong heritage to the brand. Many popular models will be on display including a 1965 Ford Pre Force 3000 tractor and 1965 Ford Pre Force 5000 tractor, and the latest T3000, T4000, T5000, T6000 and T7000 tractor models will offer a side-by-side comparison highlighting the technological advancements during the past forty years.

"At an important time in the evolution of our brand, it is worthwhile reminding everyone of our heritage. The unique display of Ford tractor products standing side by side with the new range of New Holland tractors shows we are proud to be manufacturing tractors in Britain at our Basildon factory, the home of so many classic and well-loved models, from the 5000 to the current award-winning T7000," said Mr Spencer.

Precision Land Management can reduce input costs and offer fuel savings. New Holland's T7000 tractor will be demonstrating the IntelliSteer™ system, the brand's integrated guidance solution, offering the highest level of accuracy and the widest range of applications. The system is integrated into the design of the machine and is controlled via the new multifunction IntelliView screens. Using RTK with sub-inch precision, customers can increase their overall productivity while saving on fuel: the straight line to maximise profitability.

New Pressure Recirculation for John Deere Sprayers


Claas Xerion and Kaweco Tanker Combination make Grassland Debut


Volac Topwrap 2000 launched