New Pressure Recirculation for John Deere Sprayers
19/05/08
John Deere has introduced a new pressure recirculation system with pneumatic switching of the spray nozzles for the 5430i self-propelled sprayer and all 800i and 800i TF (Twin Fluid) Series trailed sprayers.
John Deere 5430i self-propelled sprayer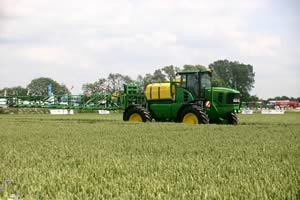 The system is now being fitted as standard equipment on these models, and will be demonstrated in the sprayers arena at the Cereals/Sprays & Sprayers event at Leadenham, Lincs in June.

The new system provides maximum liquid agitation while maintaining high pressures (up to 8 bar) and high flow rates in the spray lines. This ensures ultra-fast, drip-free nozzle on/off switching and improved spray accuracy, particularly when using the GreenStar SprayerPro control system.

Individual spray nozzles are switched on using air supplied by an onboard hydraulically driven air compressor, and switched off by spring-operated diaphragm check valves. This provides a fail-safe switch off of the spray liquid should air pressure be lost for any reason.

Spray liquid is continuously agitated in the spray lines to prevent sedimentation, especially when spraying powdered chemicals or hard to dissolve granulates. This means less risk of blocked nozzles and of over or underdosing.

During operation the spray lines are fed with liquid under pressure from both ends of each boom section, instead of the conventional practice of feeding in liquid from a single point only. This unique feature provides each nozzle with a higher flow rate of liquid all at the same time, as well as better pressure distribution, with less pressure loss within the spray lines.

Significant advantages are therefore gained in even distribution of spray liquid across the full boom width, even when using higher application rates and large nozzles, leading to savings in chemicals, time and money.

The system allows the sprayer to be cleaned anywhere simply and quickly with no risk of environmental pollution, as the rinse water is washed out of the spray lines without spraying from the nozzles. It also means the first part of the field is always effectively treated, while leaving no triangles of weeds or diseases.

New John Deere Combines on Show at Cereals 2008


Claas Xerion and Kaweco Tanker Combination make Grassland Debut


Volac Topwrap 2000 launched