Volac Topwrap 2000 launched
02/05/08
Big bale wrapping system pioneer Volac International has launched Volac Topwrap 2000, the first pre-stretched film available in the UK and Ireland that can be used on a conventional wrapper without changes in gears or settings. The film also offers opportunities for significant cost benefits to both contractors and farmers.
Volac International's David Neville with Topwrap 2000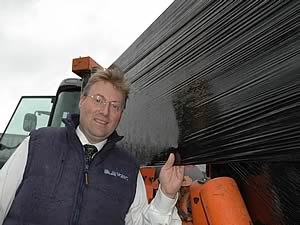 Each 2,000m roll carries 33% more plastic, sufficient to increase output by up to 10 bales per roll. In addition, plastic use together with subsequent wastage is reduced by 24% per bale. Add together the fewer roll changes, reduced time spent in roll and waste handling, lower logistic costs together with the extra output, and 10% cost savings over conventional film can be made. For contractors, the pre-stretched film has the advantage of no gear change requirement.

Furthermore, Volac Topwrap 2000 wrapped grass silage big bales have been proven in independent trials to have an equal if not better fermentation over those wrapped in standard film. The trials, carried out at Writtle College and at SAC Crichton Royal, Dumfries, compared silage made from bales of perennial ryegrass wrapped with the same number of layers of either Volac Topwrap 2000 or standard film. The resulting forages were analysed for nutrition and fermentation characteristics.

"The Volac Topwrap 2000 bales recorded a lower pH, higher lactic acid content, and a lower ratio of butyric and acetic acids to lactic acid than those wrapped with standard film," explained Writtle College's Dr Emma Bleach. "There were no effects of type of wrap seen on any of the measured nutritional parameters, for example ME, demonstrating that the thinner film can be used to replace standard wrap with equal success in terms of forage quality. In addition, the fermentation conditions were enhanced in the Topwrap 2000 bales, a finding attributed to the fact the pre-stretched film wraps the bales tighter and demonstrates improved strength and lower permeability."

Volac International's David Neville added: "Volac Topwrap 2000 is a thinner more durable film, pre-stretched during manufacture, which we are offering this season to replace standard film. Not only is the new film guaranteed to bring significant savings in terms of time and cost, along with reduced wastage, but our independent trial findings have indicated that it is also likely to enhance big bale silage fermentation."


Volac Topwrap 2000 is available from Volac International's network of distributors throughout the UK and Ireland: 730mm x 2,000m black film, at 15 rolls per pallet and with a waxed cardboard core. Volac Topwrap 2000 is backed by advice on big bale silage making techniques, nutrition and feeding from Volac International's team, together with further customer support on the Volac Forage Advice Line Freephone 0800 919808.

John Deere Gives Green Light to Pure Biodiesel


Case IH Expands Dealer Network in Wales


Volac International Acquires Golden Maverick