Longtown Primestock Sale
20/03/08
The Cumberland & Dumfriesshire Farmers Mart P.L.C. had forward 72 prime cattle, 2 young bulls, 28 OTM cattle, 4,915 prime hoggs and 4,082 cast ewes & rams at their weekly sale at Longtown on Thursday 20th March, 2008.
A smaller show of cattle saw all classes again dearer on the week, selling to a top of 161.5p for Limousin bullocks from Corby Castle Estate to Messrs Nattrass Butchers, Carlisle, others 160.5p Hallburn to Woodhead Bros., 159.5p The Gill, 159.5p (x2) Corby Castle Estate, 158.5p Hallburn, 156.5p The Gill and Hallburn, 155.5p Corby Castle and Hallburn, 154.5p, 153.5p (x2) Corby Castle, 151.5p Dashwellgreen; Belgian Blue 153.5p W. & W. Faulder, Houghton House, 152.5p Corby Castle, 150.5p The Gill; Saler 151.5p Toppin Castle & Hallburn. Heifers lacked overall quality selling to 153.5p for Limousin from A. & W.J. Taylor & Son, Dashwellgreen to Border Meats, Lockerbie, others 151.5p Gardrum, 150.5p Hallburn; Belgian Blue 151.5p The Snab; Charolais 146.5p Hallburn.
OTM cattle sold at late high rates with bullocks & heifers meeting extreme rates. Limousin bullocks to 121.5p Burnside; Angus 118.5p Burnside. Galloway heifers to 111.5p Demesne. Limousin cows to 101.5p Cadgillhead.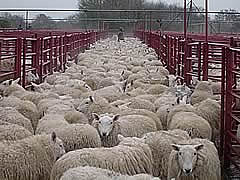 The 4,915 prime hoggs forward averaged 138.2p to a large ring of buyers. Well fleshed hoggets upheld recent high rates and were short of buyers requirements. Top of 162p per kilo for Hill Cheviots from Crawsknowe and Hillcrest. Top per head of £73.80 for Texels from Cumrue, others £70.80 Sykehead; Suffolk £72.80 Cumrue, £71.50 Faugh Beeches; Hill Cheviot £70.80 Smalmstown; North Country Cheviot £67.80 Sceughdyke, £65.80 Hillcrest; Blackface £67.20, £65.80 Smalmstown, £60.80 The Yett; Charollais £64.80 Sceughdyke, £64.20 Tappitlane; Greyface £63.80 Sceughdyke, £62.80 Aimshaugh; Cheviot Mule £58.80 Falnash; Bleu d'Maine £58.20 Lawston; Herdwick £57.80, £56.80 Rowhead; Leicester £57.80 Finniness; Half Bred £55.20 Lythmore; Jacob £54.80 Copperthorns; Swaledale £50.80 West Foreshield, £47.80 Aimshaugh; Dorset £49.20 Port O Spittal.
The 897 lightweight hoggs averaged 134.6p per kilo and sold to a top of £55.80 for Texels from Netherwood; Hill Cheviot £53.20 Falnash; Blackface £50.20 Barlaes; Charollais £48.80 Chapel Farm; Suffolk £47.80 Swaites; Dorset £47.20 Port O Spittal; Greyface £47.20 East Mains; Beltex £45.20 Old Police House; Herdwick £43.80 Rowhead; Half Bred £37.20 Lythmore; Swaledale £36.80 Copperthorns.
The 4,082 cast ewes and rams attracted the usual buyers and all classes met an extreme demand to average £49.76 overall. Heavy ewes to a top of £100 for a Suffolk ewe from Hilltop, others £94.50 Riddings Hill, £92.50 Plaskettlands; Texel £92.50 Newton (Currie), £90.50 Port O Spittal, £86.50 Hilltop and Ballyclare; Beltex £94.50 Baltier and Crailloch; Suffolk cross £92.50 Flagstaff, £89.50 Roadside, £86.50 Ballyclare; Charollais £86.50 Tappitlane, £84.50 Roadside, £81.50 Thackwood; Bleu d'Maine £85.50 Lairdlaugh; Cheviot Mule £84.50 St Johns Kirk, £78.50 Hallburn; North Country Cheviot £79.50 Buckies, £76.50 Whins, £73.50 West Watten; Leicester £78.50 Haggistone Holm, £77.50 Newbiggin Walls; Greyface £69.50 Westerseat and The Gill, £68.50 Bennettsfield, £67.50 East Mains; Half Bred £66.50 Reaster; Masham £64.50 Holme Farm. Hill ewes to £65.50 for Cheviots from The Snade; Blackface £52.50 Netherwood, £51.50 East Mains; Lonk £52.50 Hilltop; Swaledale £49.50 Farnbury; Herdwick £44.50 Mallsgate, £42.50 North Farm. Rams to £78.50 for Texels from Baltier, others £76.50 Hilltop and North Farm; Suffolk £76.50 Hallburn, £75.50 Leadgate; Lleyn £72.50 Craigloch; Charollais £72.50 Holm Farm, £70.50 Ballyclare; Leicester £68.50 Lythmore and Dalbradden; Cheviot £66.50 Reaster; Vendeen £60.50 Leadgate; Beltex £58.50 Hallburn; Blackface £50.50 Shielswood; Swaledale £40.50 Howburn.
Averages:
Steers
Light to -------p (-------p
Medium to 161.5p (153.0p)
Heavy to 160.5p (146.9p)
Heifers
Light to -------p (-------p)
Medium to 149.5p (137.4p)
Heavy to 153.5p (135.4p)
Young Beef Bulls to 124.5p (124.5p)
Hoggs
Light to 161.4p (129.2p)
Standard to 161.6p (138.2p)
Medium to 162.0p (142.0p)
Heavy to 149.5p (132.2p)
Others to -------p (-------p)
Ewes
Light to £65.50 (£30.89)
Heavy to £100.00 (£60.25)
Cast Rams £78.50 (£53.31)

Longtown Primestock Sale - 13th March 2008


Longtown Primestock Sale - 6th March 2008


Longtown Primestock Sale - 28th February 2008