Longtown Primestock Sale
13/03/08
The Cumberland & Dumfriesshire Farmers Mart P.L.C. had forward 105 prime cattle, 3 young bulls, 9 OTM cattle, 6,347 prime hoggs and 4,671 cast ewes & rams at their weekly sale at Longtown on Thursday 13th March, 2008.
All classes of prime cattle were dearer on the week by 3p. Top price of 165.5p for a Limousin bullock from Arthur Ritchie, Stormont, Gretna and purchased by Maurice Wharton Meats, others to 161.5p Corby Castle Estate and Hallburn to Messrs Nattrass Butcher, Carlisle, 157.5p Corby Castle Estate, 156.5p Haining House, 155.5p Stormont, Faulding Cleugh and Corby Castle Estate, 154.5p Faulding Cleugh and Hallburn, 153.5p Stormont, 152.5p Corby Castle Estate, 151.5p The Gill, Houghton House and Corby Castle Estate; Belgian Blue 156.5p Hallburn to Messrs Nattrass, Carlisle, others 155.5p Corby Castle Estate; Saler 153.5p Hallburn to Wooddhead Bros.; Charolais 152.5p Hallburn to Woodhead Bros. Limousin bullocks to a top per head of £1,121 from Haining House. Limousin heifers from A. & W.J. Taylor & Son, Dashwellgreen sold to 155.5p to W. Kirkup, Butcher, Longtown, others 154.5p (x2) Hallburn, 151.5p Dashwellgreen; Belgian Blue 149.5p from G.P. & E.A. Coates, Beckhall to Messrs Malone, Edinburgh; Charolais 149.5p from W.H. & M. Sisson & Son, Fenton to Border Meats, Lockerbie.
Young bulls were short of requirements and were also dear to a top of 143.5p for Limousin from E. Wilkie, Shaw Cottage.
A small show of OTM cattle sold at extreme rates with Limousin bullocks to 126.5p, 125.5p 124.5p, 123.5p, 121.5p and to £1,033 all from D. Ritchie, Stormont Farm. Limousin cows to 95.5p (£678) Blindhillbush; Holstein Friesian 76.5p South Lambhill.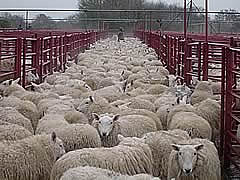 The prime hoggs were the dearest trade of the season so far selling to a large ring of buyers. Well fleshed hoggs were keenly sort after and short of buyers requirements The average 143.6p per kilo overall a rise of 11p on the week. Top price per kilo of 175p for Texels from MacTaggart Bros, Castle Douglas. Top per head of £82.50 for Texels from S.L. Flett & Son, Redbanks, Orkney, others to £80.50 MacTaggart Bros. and The Becks; North Country Cheviot £78.80, £69.20, £67.80 Stemster Mains, £64.20 Waterside; Charollais £78.20 Langholm Farm; Suffolk £76.50 Sceughdyke, £76.20 Langholm Farm; Oxford £74.50 Home Farm; Blackface £73.20, £68.20, £63.80 Smalmstown, £62.80 Barlaes; Hill Cheviot £68.80 Sceughdyke, £67.80 Rimington Way; Greyface £68.50 Colter Coats, £61.80 Snowden Close; Beltex £66.50 Derwent House; Cheviot Mule £65.80 Solwaybank; Zwartbles £63.50 Copperthorns; Leicester £62.80 The Bog Farm; Vendeen £52.80 Burrance of Courance; Woodland £51.20 Riggshield; Swaledale £47.20 Croglin High Hall.
The 1,561 lightweight hoggs averaged 134.2p per kilo and sold to a top of £55.80 and £54.80 for Hill Cheviots from The Becks, others £53.20 Raeburnfoot (Walker); Texel £53.80 Langholm Farm, £51.80 Swaites; North Country Cheviot £52.20 Nether Albie; Suffolk £51.80 Swaites; Herdwick £51.80 Newington Avenue; Blackface £51.20 Chaplehope, £49.20 Corsebank; Charollais £47.20 Copperthorns; Cheviot Mule £47.20 North House; Greyface £46.80 Copperthorns, £46.20 The Farm, Aikton; Swaledale £42.80 Prior Rigg; Woodland £42.20 Riggshield; Shetland £39.20 Stemster Mains; Vendeen £37.20 Burrance of Courance; Jacob £30.80 Riggshield.
The 4,671 cast ewes and rams met an exceptionally dear trade from the largest ring of buyers for a long time to average £45.95 overall. Top of £93.50 for heavy Suffolk ewes from The Lands, £88.50 Loughrigg, £84.50 East Mains; Texel £86.50 Waterloo, £84.50 West Watten, £83.50 Roadside; Charollais £84.50 Loughrigg, £76.50 Winterhope; Suffolk cross £82.50 East Farm, Redbanks and Whitcastle; Bleu d'Maine £78.50 Ballyclare, £72.50 Waterloo; Beltex £78.50 Tercrosset, £72.50 Ballyclare; Rouge £74.50 Ballyclare; North Country Cheviot £74.50 Stobshiel, £71.50 Tormore, £70.50 Colter Coats; Leicester £82.50 Boreland, £80.50 Crawthat; Cheviot Mule £65.50 Nethertofts; Greyface £62.50 Colter Coats and Grainhead, £61.50 Mallsgate; Wensleydale £60.50 Hardhurst; Vendeen £56.50 Kilncroft. Hill ewes to £55.50 for Cheviots The How, others to £54.50 Hillcrest, £52.50 Whitcastle, £50.50 Allfornaught; Blackface £50.50 Allfornaught, £48.50 East Farm, £46.50 Balker Farm; Lleyn £48.50 East Mains; Swaledale £45.50 Woodslee; Herdwick £32.50 Laalsteins.
Rams to £80.50 for a Cheviot from Tormore; Texel £78.50 Winterhope; Suffolk £76.50 Redbanks; Charollais £60.50 Winterhope; Leicester £59.50 Morley Hill; Kendal Rough £56.50 Laalsteins; Lleyn £52.50 East Mains; Blackface £46.50 Balker Farms and Riskenhope; Swaledale £42.50 Morley Hill.

Averages:
Steers
Light to -------p (-------p
Medium to 161.5p (144.7p)
Heavy to 165.5p (143.5p)
Heifers
Light to -------p (-------p)
Medium to 155.5p (140.0p)
Heavy to 154.5p (138.1p)
Young Beef Bulls to 143.5p (133.1p)
Hoggs
Light to 160.6p (130.7p)
Standard to 174.8p (142.0p)
Medium to 175.0p (150.1p)
Heavy to 162.6p (138.3p)
Others to -------p (-------p)
Ewes
Light to £55.50 (£32.26)
Heavy to £93.50 (£56.53)
Cast Rams £80.50 (£47.73)

Longtown Primestock Sale - 6th March 2008


Longtown Primestock Sale - 28th February 2008


Longtown Primestock Sale - 21st February 2008