Longtown Primestock Sale
28/02/08
The Cumberland & Dumfriesshire Farmers Mart P.L.C. had forward 113 prime cattle, 0 young bulls, 29 OTM cattle, 5,179 prime hoggs and 4,083 cast ewes & rams at their weekly sale at Longtown on Thursday 28th February, 2008.
All classes of clean cattle sold at recent high rates to a top of 159.5p for a Limousin bullock from J. & N. Blaylock & Son, Hallburn and purchased by Messrs Nattrass, Butcher, Carlisle, others to 155.5p Corby Castle Estate, 154.5p Crookholm, 153.5p Upper Tinwald, Crookholm and Corby Castle Estate, 152.5p Hallburn and Corby Castle Estate, 151.5p Houghton House, 150.5p The Gill, Corby Castle and Hallburn; Belgian Blue 154.5p and 153.5p Hallburn, 149.5p Corby Castle Estate; Blonde d'Aquitaine 153.5p Loughrigg, 146.5p Gardrum; Saler 148.5p, 145.5p and 143.5p Hallburn. Blonde d'Aquitaine heifers to 153.5p from J. Crichton, Loughrigg; Charolais 155.5p Toppin Castle, 150.5p Dashwellgreen; Angus 152.5p Toppin Castle; Limousin 148.5p Houghton House, 147.5p Hallburn, 146.5p Englishtown, 145.5p Dashwellgreen, 144.5p Upper Mains.
A larger show of OTM cattle met a fast trade with a top price per kilo of 118.5p for an Angus steer from T. Armstrong & Son, Sceughdyke with a top price per head of £881.65 for a Limousin steer from J.W. Coulthard & Son, Brisco Hill. Other overage clean cattle to 114.5p and 112.5p for Limousin bullocks & heifers from Brisco Hill and 110.5p for a Friesian heifer from Hethermill. Cows sold to 114.5p, 101.5p and 100.5p for Limousins from The Becks; Blonde d'Aquitaine 100.5p Becks Farm, Angus 98.5p Sorbie Farm; Friesian 96.5p Bleatarn, 90.5p Smalmstown, 86.5p Todhillrigg, 85.5p High Moorhead; Holstein 92.5p Chapeltown; Belgian Blue 91.5p Patties Hill; Blue Grey 85.5p Fordlands. Leading prices per head – Limousin steer £881.65 Brisco Hill, Angus steer £859.13 Sceughdyke; Limousin cow £784.33, £766.33, £733.65 (x2) The Becks, Friesian cow £743.05 Bleatarn.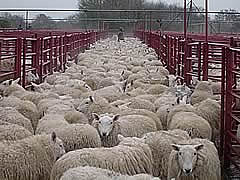 A large show of better quality hoggs demanded a firmer trade with good flesh well sought after. A full ring of buyers ensured a fast trade throughout to average 129.4p, a rise of 5p on the week. Top price per kilo of 156.5p for Beltex hoggs from J. Beck, Port O Spittal, Stranraer and to £72.80 per head for Suffolks from R. Simpson, Kirkhouse, Innerleithen. Texel £71 Main Office; North Country Cheviot £68.50 Hill Crest; Hill Cheviot £66.20 Sceughdyke; Charollais £65.80 Colter Coats; Zwartbles £65 Woodhousehill; Kerry £64.50 Riggshield; Blackface £63.50 Outer Huntley; Greyface £62.50 Reaygarth; Bleu d'Maine £59.50 West Farm; Hampshire £52.80 Hoddom & Kinmount; Half Bred £58.20 Falnash; Leicester £56.50 East Cragside; Beltex £56 Aldery Terrace; Lleyn £50.80 Harper Hill; Cheviot Mule £50.80 High Stenries.
Well fleshed lightweight hoggs (25-35 kilos) were again short of buyers requirements selling to a top of £54.80 for Beltex's from Port O Spittal; North Country Cheviot £49.80 Kilfinnan; Hill Cheviot £47.50 Winterhope; Texel £47.20 Redgate Head; Blackface £45.80 Sorbie; Greyface £44.80 Naddle Farm; Suffolk £44.80 The Old Police House and Druchtag; Charollais £44.20 Brocklewath; Zwartbles £43.80 The Bank Farm; Hampshire £34 Colter Coats; Swaledale £33 Westburnhope;.
The 4,083 cast ewes and rams forward saw all the usual buyers operating and all classes the best trade of the season to average £38.25 overall. Top of £80.50 for Suffolks from Port O Spittal, others £70.50 Lands, £64.50 East Mains; Texel £76.50 The Becks and Carran, £72.50 Ballyclare, £70.50 West Farm and Grey Peel; Beltex £69.50 Nether Ernambrie, Beltex £62.50 Mouldy Hills; Charollais £68.50 Ballyclare; Suffolk cross £66.50 Winterhope, £63.50 Ballyclare; Bleu d'Maine £64.50 West Farm; Greyface £54.50 Pearsby Hall, £53.50 Newbiggen Walls, Camieston; Lleyn £49.50 Winterhope; Cheviot Mule £48.50 Falnash; Masham £43.50 Colter Coats. Hill ewes to £49.50 for Blackfaces from Baillieknowe, others £40.50 Netherwood and Glenshanna; Cheviot £40.50 Chapel and Hownam Grange; Swaledale £39.50 Stackbraes, £38.50 Reaygarth, £36.50 Stotsfold. Rams to £72.50 for a Texels and Charollais' from Winterhope, other Texels £68.50 East Mains, other Charollais £71.50 East Mains; Leicester £64.50 Tushielaw; Suffolk £61.50 Ballyclare, £60.50 Leadgate; Beltex £58.50 Winterhope; Cheviot £58.50 West Farm, £56.50 Tushielaw; Jacob £39.50 East Mains; Blackface £37.50 Megdale, £36.50 Stackbraes; Swaledale £29.50 West Farm.
Averages:
Steers
Light to 153.5p (153.5p)
Medium to 152.5p (137.4p)
Heavy to 159.5p (142.9p)
Heifers
Light to -------p (-------p)
Medium to 156.5p (134.4p)
Heavy to 155.5p (136.2p)
Young Beef Bulls to -------p (-------p)
Hoggs
Light to 128.0p (119.3p)
Standard to 156.5p (130.9p)
Medium to 147.0p (132.5p)
Heavy to 142.7p (126.3p)
Others to -------p (-------p)
Ewes
Light to £49.50 (£28.55)
Heavy to £80.50 (£43.76)
Cast Rams £72.50 (£48.98)

Longtown Primestock Sale - 21st February 2008


Longtown Primestock Sale - 14th February 2008


Longtown Primestock Sale - 7th February 2008