Longtown Primestock Sale
21/02/08
The Cumberland & Dumfriesshire Farmers Mart P.L.C. had forward 99 prime cattle, 2 young bulls, 14 OTM cattle, 5,483 prime hoggs and 5,867 cast ewes & rams at their weekly sale at Longtown on Thursday 21st February, 2008.
All classes of clean cattle were again dearer on the week with bullocks averaging 143.5p and heifers 139p. Top price of 159.5p paid by Woodhead Bros for a Limousin bullock from J.C. & D. Nicholson, The Gill, others to 158.5p Corby Castle Estate to Messrs Nattrass, Butcher, Carlisle, 157.5p Haining House, 155.5p The Gill, 154.5p, 153.5p (x2) Corby Castle Estate, 153.5p (x2) Hallburn, 152.5p Becton Hall, Corby Castle Estate and The Gill; Belgian Blue 159.5p J. Retson & Son, Guardrum to M. Wharton, Wigton, 157.5p The Gill, 154.5p Hallburn; Charolais 146.5p W. & W. Faulder, Houghton House; Devon 148.5p W.J. & M. Sisson, Fenton. Heifers to 158.5p for a Limousin from W. & W. Faulder, Houghton House to W. Kirkup, Butcher, Longtown, others 154.5p, 153.5p (x2) Hallburn, 151.5p (x2) The Snab and Houghton House; Belgian Blue 150.5p J. Retson & Son, Guardrum to Woodhead Bros; Devon 154.5p W.J. & M. Sisson, Fenton to Border Meats, Lockerbie; Charolais 150.5p from J. & N. Blaylock & Son, Hallburn to Woodhead Bros.
A smaller show of OTM cattle again met high rates with Limousin bullocks to £728 Burnside; Angus £762 Burnside. Cows to £764 for Limousins from Harelawhill; Whitebred Shorthorn £507 Blackburn; Galloway £477 Softley; Black & White £573 Bleaberry Rigg.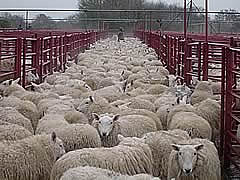 The 5,483 hoggs were a larger show and sold to another full ring of buyers demanding a buoyant trade. Good quality well fleshed 40 – 45 kilo hoggs still in short supply and were frequently selling at between 135/140p/kg. The overall average was 124.4p/kg. The top price per kilo of 155.7p for Texels from J. Marshall, Hermitage, Hollee and to a top of £77.50 per head for Texels from Ballylinney Livestock, Whitcastles Farm. Suffolk £74.50 Sceughdyke; Beltex £68.50 Cleughfoot; Cheviot Mule £65.20 Smalmstown; Greyface £64.50 Borthwick Brae; North Country Cheviot £61.20 Netherwood; Charollais £60 Sceughdyke; Blackface £58.80 Smalmstown; Hill Cheviot £58 Woodhouse Hill and The Becks; Dorset £56.50 Bellburn Sands; Lleyn £55.20 Guards Farm; Bleu d'Maine £54.80 Lawston; Swaledale £54.20 Orthwaite Hall; Oxford £52.20 Guards Farm; Hampshire £46.50 Hoddom; Half Bred £45.80 Mouswald Grange; Leicester £45.50 Borthwick Brae; Herdwick £40 Cardewlees.
The 1815 lightweight hoggs (25-35kilo) sold to a top of £54.50 for Texels from J. Marshall, Hermitage, other Texels to £46.20 High Stenries; Blackface £45 Slaterich; Cheviot £44.80 Naddle Farm; Greyface £44.80 Mouswald Grange; Cheviot Mule £44.80 High Stenries; Suffolk £43.80 Broomhill (Hird); Welsh Mountain £41.80 Longbrough Fauld; Beltex £40 High Airyolland; Jacob £39.50 Hoddom; Herdwick £37.20 Allfornaught; Swaledale £34.20 Naddle Farm.
The 5,867 cast ewes and rams were a larger entry with all classes very dear. Top of £75.50 for heavy Texel ewes from Cleughfoot, others £72.50 East Mains, £71.50 Stackbraes; Beltex £70.50 Roadside; Charollais £68.50 Cardew Hall, £67.50 Thackwood; Suffolk £67.50 Leadgate, £66 Plasketlands; Suffolk cross £65.50 Roadside, £61.50 Tarnflatt, Pirnation, & Cardew Hall; Leicester £56.50 West Farm, Boreland, £54.50 Carterton & Arnicle; Rouge £56.50 Newry; North Country Cheviot £55.50 Old Field, £54.50 Carruthers; Greyface £53.50 Colter Coats and West Farm, £50.50 Sceughdyke; Halfbreds £57.50 Rumbletonrig. Cheviot Miles £48.50 Woodfoot, £46.50 Hutlerburn. Hill ewes to £47.50 for Cheviots from Whitcastle, £45.50 Stoophill; Blackface £43.50 Broomhope & Carry House; £41.50 Leadgate, £40.50 Archibald; Herdwick £34.50 Laal Steins; Swaledale £35.50 Roachburn, £32.50 East Mains & Netherton; Shetland £25 Ballyclare. Rams to £70.50 for Texels from Stackbraes, £68.50 Outerorton; Leicester £66.50 Leadgate; Charollais £66.50 Stackbraes; Beltex £64.50 Winterhope; Suffolk £66.50 Rumbletonrig; North Country Cheviot £65 Ballyclare, £58.50 Humbleheugh & Carruthers; Blackface £39.50 Leadgate, £37.50 Nilston Rigg & East Mains; Swaledale £34.50 High Edges Green.
Averages:
Steers
Light to 105.5p ( 99.7p)
Medium to 158.5p (140.5p)
Heavy to 159.5p (145.0p)
Heifers
Light to -------p (-------p)
Medium to 153.5p (140.0p)
Heavy to 158.5p (138.8p)
Young Beef Bulls to 69.5p ( 66.4p)
Hoggs
Light to 133.3p (113.1p)
Standard to 155.7p (124.4p)
Medium to 144.3p (129.2p)
Heavy to 149.0p (125.2p)
Others to -------p (-------p)
Ewes
Light to £47.50 (£25.94)
Heavy to £75.50 (£44.37)
Cast Rams £70.50 (£47.13)

Longtown Primestock Sale - 14th February 2008


Longtown Primestock Sale - 7th February 2008


Longtown Primestock Sale - 31st January 2008