Longtown Primestock Sale
07/02/08
The Cumberland & Dumfriesshire Farmers Mart P.L.C. had forward 100 prime cattle, 0 young bulls, 23 OTM cattle, 6,206 prime hoggs and 4,337 cast ewes & rams at their weekly sale at Longtown on Thursday 7th February, 2008.
Prime cattle saw averages up 3p on the week with a top price of 151.5p paid by Messrs Nattrass Butcher, Carlisle for a Limousin bullock from Corby Castle Estate, others to 148.5p Houghton House, 147.5p The Gill, 146.5p Hallburn, 145.5p Nunscleugh, The Gill and Hallburn, 144.5p (x2) Corby Castle Estate and The Gill, 142.5p Dashwellgreen and Corby Castle Estate; Belgian Blue 149.5p Corby Castle Estate to Messrs Nattrass Butcher; Charolais 149.5p J. & N. Blaylock & Son, Hallburn to W. Kirkup Butchers, Longtown; Saler 142.5p and 141.5p Hallburn to Woodhead Bros. Charolais heifers from J. & N. Blaylock & Son, Hallburn sold to 148.5p and 143.5p to Border Meats, Lockerbie; Limousin 141.5p and 140.5p from W. & W. Faulder, Hougton House to Border Meats, Lockerbie.
OTM cattle again met high rates with Belgian Blue cows to 108.5p Nunscleugh; Limousin 94.5p Wanwood Hill, 90.5p Bleatarn; Simmental 89.5p Sceughdyke; Black & White 87.5p Evertown; Charolais 85.5p Shankbridge End.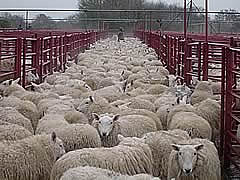 A larger show of 6,206 hoggs forward met a fast selling trade to average 124.5p, with well fleshed export lambs short of requirements and in demand. The sale was topped at 147p per kilo for Beltex from Mouldy Hills and to £67.50 per head for Texels from Irthing View, others £66.50 Hillside and £64.80 Becton Hall; Beltex £66.50, £60.20 East Highberries; Suffolk £66.20 High Floweryhirst, £65.20 Barnglies; Greyface £59.80 Nilston Rigg, £57.80 Kellah; Leicester £59.20 Albierigg; Cheviot £58.20 Sceughdyke, £57.80 Milnholm; Charollais £57.80 Moss Side and Dashwellgreen; Cheviot Mule £56.20 High Stenries; Blackface £56.20 Roughet Hill, £53.80 Gass Farm; North Country Cheviot £56.20 Hill Crest; Jacob £52.80 Summer Hill, £49.80 Craigdhu; Zwartbles £51.80 Miller Hill; Lleyn £41.20 Mid Dargarvel; Swaledale £39.80 Kirkhaugh.
The 1,833 lightweight hoggs sold to a top of £48.80 for Texels from Bankhead, others £46.20 Kirkwood Mains; Hill Cheviot £47.80, £44.20 Falnash; Greyface £42.80 East Highberries; Zwartbles £42.20 Miller Hill; Blackface £41.20 Uppercleugh; Suffolk £41.20, £40.80 Whitehaugh; North Country Cheviot £39.20 South Lambhill; Swaledale £39.20 Westburnhope; Charollais £38.20 Culquhasen; Leicester £36.80 Kellah.
The 4,337 cast ewes and rams were a larger show with all classes dearer by £2 to £4 per head to average £35.15 overall. Top of £76.50 for heavy Texel ewes from Winterhope, others to £75.50 Ballyclare, £74.50 Whitrigg Hill; Charollais £69.50 Stackbraes; Bleu d'Maine £66.50 Albierigg; Beltex £66.50 Broomhills; Leicester £56.50 Albierigg; Suffolk £56.50 Barrogill Mains, £54.50 Maxton; Suffolk cross £54.50 West Farm; North Country Cheviot £54.50, £53.50 Waterloo and Barrogill Mains; Half Bred £49.50 Sceughdyke; Cheviot Mule £48.50 Philiphaugh; Greyface £48.50 Barnglies, £45.50 Maxton; £42.50 Woodhead, Stackbraes, Leadgate and High Glentriplock; Lleyn £48.50 Satchells.
Hill ewes to £36.50 for Blackfaces from Quarry House and Cheviots from Cainbeany, other Blackfaces £35.50 South Lambhill and Crowhall, £34.50 Albierigg; Swaledale £34.50 Medomsley, £31.50 Meadow View; Shetland £29.50 Ballyclare. Rams to £68.50 for Suffolks from Roanstree, £62.50 East Mains; Texel £64.50 East Mains; Charollais £64.50 Waterloo; Leicester £62.50 East Mains; Beltex £54.50 Ballyclare; Cheviot £50.50 Waterloo; Zwartbles £48.50 Broomhills; Lleyn £42.50 Mossfennan; Blackface £40.50 Townshield; Swaledale £34.50 Merryknowe.
Averages :
Steers
Light to 93.5p ( 93.5p)
Medium to 151.5p (136.3p)
Heavy to 149.5p (135.6p)
Heifers
Light to -------p (-------p)
Medium to 127.5p (127.5p)
Heavy to 148.5p (125.9p)
Young Beef Bulls to -------p (-------p)
Hoggs
Light to 135.1p (112.2 p)
Standard to 143.0p (125.3p)
Medium to 147.0p (131.3p)
Heavy to 137.2p (119.9p)
Others to -------p (-------p)
Ewes
Light to £36.50 (£26.09)
Heavy to £76.50 (£39.58)
Cast Rams £68.50 (£39.15)

Longtown Primestock Sale - 31st January 2008


Longtown Primestock Sale - 24th January 2008


Longtown Primestock Sale - 17th January 2008