Longtown Primestock Sale
24/01/08
The Cumberland & Dumfriesshire Farmers Mart P.L.C. had forward 79 prime cattle, 6 young bulls, 29 OTM cattle, 5,188 prime hoggs and 4,635 cast ewes & rams at their weekly sale at Longtown on Thursday 24th January, 2008.
All classes of clean cattle again met a very fast selling trade to a top price of 149.5p paid by Messrs Nattrass Butchers, Carlisle for a Limousin bullock from Corby Castle Estates, Great Corby, others to 146.5p Corby Castle to Woodhead Bros., 144.5p Loughrigg to Messrs Nattrass, Carlisle, 139.5p Sceughdyke, 137.5p Becton Hall, Wyseby Hill Cottage and Corby Castle, 135.5p The Gill and Hallburn, 134.5p Houghton House and Hallburn; Belgian Blue 142.5p from Beckhall and Hallburn to W. Kirkup Butcher, Longtown, others to 141.5p Corby Castle; Charolais 137.5p Hallburn to Woodhead Bros.; Saler 135.5p and 134.5p Hallburn to Woodhead Bros.; Blonde d'Aquitaine 137.5p Corby Castle to Messrs Malone, Edinburgh. Charolais heifers from Hallburn sold to 145.5p, 138.5p and 137.5p to W. Kirkup Butcher and Border Meats, Lockerbie, 131.5p Houghton House and Sceughdyke; Limousin 143.5p Messrs Crichton, Loughrigg to Messrs Nattrass, Carlisle, 142.5p Hallburn, 140.5p Beckhall, 138.5p and 137.5p Houghton House; Belgian Blue 142.5p Beckhall to W. Kirkup, 139.5p Gardrum, 133.5p Hallburn, 131.5p Justicetown.
Young bulls were short of requirements selling to 122.5p and 121.5p for Limousins from J.N. Hall, Harelaw Hill; Belgian Blue 119.5p Becton Hall.
OTM cattle were also in great demand selling to 100.5p (£1,020) for a Charolais cow from Halltown; Limousin 90.5p Stonehall, 87.5p Moss Side; Black & White 86.5p, 84.5p Harelawhole; Simmental 80.5p South Common; Hereford 65.5p South Common. Limousin heifers to 111.5p Stonehall, 101.5p Fordlands.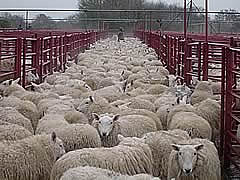 With 5,188 hoggs forward selling to a large ring of buyers, upheld recent high rates to average 114.5p per kilo. Heavy weight hoggs above 47 kilos were in short supply as were well fleshed 40-44 kilo export types. The sale was topped at £61.20 per head for Texels from Upper Mains and to 135p per kilo for Beltex's from North Greenhill. Suffolk £60.50 Underwoodhouse; Greyface £57.20 Lawston; Lleyn £55.80 Westerhouses; Beltex £55.20 Newton Farm; Charollais £54.80 North Greenhill; North Country Cheviot £53.20 Naddle; Bleu d'Maine £50.20 Lawston; Cheviot £49.80 Wanwood Hill; Cheviot Mule £46.80 Tushielaw; Blackface £46.80 Sceughdyke; Herdwick £44.20 Allfornaught; Welsh Mountain £43.20 Longbrough; Swaledale £41.80 Underwoodhouse; Roussin £39.80 Debog.
Lightweight hoggs were a flying trade and well short of requirements, although good flesh was sought after. 912 hoggs averaged 112.3p per kilo. Texel £43.20 High Stenries; Beltex £42.20 Mouldy Hills; Blackface £42.20 Milnmark; North Country Cheviot £41.80 Langberrick; Suffolk £40.80 High Stenries; Cheviot £40.80 Dinley; Greyface £39.80 Sceughdyke; Cheviot Mule £39.20 High Stenries; Charollais £39.20 Brocklewath; Herdwick £38.20 Allfornaught; Welsh Mountain £36.80 Longbrough; Swaledale £33.80 Naddle.
The 4,635 cast ewes and rams were a smaller show. All the usual buyers were forward and all classes easily maintained last weeks rates. Top of £60.50 for Texels from Kilncroft, others £56.50 Burnside, £55.50 Stackbraes and Dinwoodie Green; Beltex £58.50 Burnside, £57.50, £56.50 Ballyclare; Suffolk cross £48.50 Stackbraes, £45.50 East Farm and Ballyclare; Leicester £46.50 Nunscleugh; Suffolk £46.50 Hallees and Light House; North Country Cheviot £42.50 Mersington; Masham £41.50 Lydden; Half Bred £39.50 Heads; Greyface £38.50 Becklees, £37.50 and £36.50 Bridge Farm, £35.50 Home Farm and Whiteclose. Hill ewes to £37.50 for Cheviots from Effgill; Lleyn £35.50 Lustruther; Blackface £33.50 Bennetsfield, £31.50 Catreen; Swaledale £29.50 High Greenhill, £25.50 Nunscleugh and Gallowberry. Rams to £55 and £54 for Texels from Colter Coats; Suffolk £50.50 Deuchrie; Charollais £48.50 Colter Coats; Leicester £46.50 Border Rigg; Lleyn £37.50 Lustruther; Cheviot £33.50 Unthank; Zwartbles £30 Mossband House; Blackface £29.50 Deuchrie. Goats to £39.50 Ballyclare.
Averages:
Steers
Light to -------p (-------p)
Medium to 123.5p (120.6p)
Heavy to 149.5p (133.2p)
Heifers
Light to -------p (-------p)
Medium to 137.5p (121.1p)
Heavy to 145.5p (129.3p)
Young Beef Bulls to 122.5p (110.7p)
Hoggs
Light to 123.0p (109.6p)
Standard to 135.0p (114.3p)
Medium to 131.0p (115.4p)
Heavy to 122.0p (109.1p)
Others to -------p (-------p)
Ewes
Light to £37.50 (£19.00)
Heavy to £60.50 (£33.62)
Cast Rams £55.00 (£35.52)

Longtown Primestock Sale - 17th January 2008


Longtown Primestock Sale - 10th January 2008


Longtown Primestock Sale - 3rd January 2008