Longtown Primestock Sale
10/01/08
The Cumberland & Dumfriesshire Farmers Mart plc had forward 73 prime cattle, 0 young bulls, 24 Over Thirty Month cattle, 5,114 prime hoggs and 5,277 cast ewes & rams at their weekly sale at Longtown on Thursday 10th January, 2008.
Clean cattle were dearer on the week selling to a top of 141.5p for a Limousin bullock from J. & N. Blaylock & Son, Hallburn, others to 133.5p The Gill and Hallburn, 132.5p (x2) Hallburn; Blonde d'Aquitaine 136.5p (x2) Hallburn; Belgian Blue 133.5p Hallburn; Charolais 131.5p Sceughdyke. Top price in the heifer section was for Limousins from J. & J. & D. Taylor, Englishtown at 138.5p and 135.5p, others to 135.5p Houghton House, 133.5p Englishtown; Charolais 137.5p, 135.5p and 134.5p Hallburn, 132.5p Upper Mains; Belgian Blue 133.5p Nirvana.
More OTM cattle were on offer and met the dearest trade of the season and were well short of requirements. Limousin x cows sold to 114.5p and 108.5p from Nunscleugh, 83.5p Shankbridge End; Devon x 71.5p Englishtown; Holstein 66.5p Chapeltown; Galloway 55.5p Burnfoot of Ewes.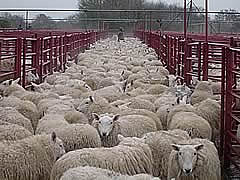 The 5,114 prime hoggs were keenly sought aftert by a full ring of buyers, selling to a top per kilo of 128.7p for Texels from Messrs MacTaggart Bros., Castle Douglas. Top per head of £58 for Texels from Messrs McColm, Crailloch Farm, Port William, others £55.2 Kirtlebank; Suffolk £53.80 Sceughdyke; Charollais £48 Brocklewath; Blackface £46.80 Sceughdyke; North Country Cheviot £46.80 Hownam Grange; Greyface £46.20 Sceughdyke, Castlemilk, The Nook and Mains of Collin; Bleu d'Maine £44.80 Clantibuies; Oxford £44 Guards Farm; Half Bred £43.80 Earlside; Cheviot £43.50 Sorbie; Lleyn £42.20 Guards Farm; Zwartbles £42 Hobbiesburn; Leicester £41 High Creoch; Cheviot Mule £39.20 Ryehills; Swaledale £36.80 Bullshill; Kendal Rough £35.20 Churchview; Welsh Mountain £31.50 Trailtrow.
The 830 light lambs sold to a top of £42.20 for Texels from Shankfieldhead; Blackface £38.80 Sceughdyke; Cheviot £37 Potholm; Suffolk £35.20 Denbieyett; Greyface £34 Stackbraes; Charollais £33.50 Annabaglish; Swaledale £29.80 Bullshill; Shetland £28.80 Mossknowe; Leicester £27.50 Stackbraes.
The 5,277 cast ewes and rams were a similar show, trade was very similar on the week to average £30.12 overall. Top of £64.50 for heavy Texel ewes from Ballyclare, others to £63.50 Northgate Farm, £60.50 Newlands; Charollais £58.50 Ballyclare; Suffolk cross £56.50 Northgate Farm, £52.50 Ballyclare; Beltex £56.50 Waterloo; Suffolk £55.50 Cracrop, £52.50 Annandale; Half Bred £51.50 Northgate Farm; North Country Cheviot £49.50 Waterloo, £46.50 Quoys of Reiss; Leicester £47.50 Newbiggin; Greyface £44.50 Crumhaugh Hill and Lords Lot, £41.50 West Nubbock; Cheviot Mule £40.50 Crumhaugh Hill; Zwartbles £37.80 Mossband House. Hill ewes to £39 and £38.50 for Blackfaces from West Nubbock; Cheviot £37.50 Netherside, £36.50 Guidehead; Swaledale £30.50 Northgate Farm, £27.50 Beaconrigg; Herdwick £19.50 Nether Stenries. Rams to £68.50 for Suffolks from Northgate; Texel £58.50 Craililoch; Leicester £54.50 Gallowberry; Beltex £49.50 East Mains; Charollais £48 East Mains; Oxford £46.50 Guards Farm; Blackface £40 Stackbraes; Cheviot £35.50 Haithwaite; Zwartbles £35.50 Hobbiesburn; Swaledale £29.50 Randleholme.
Averages:
Steers
Light to -------p (-------p)
Medium to 132.5p (114.1p)
Heavy to 141.5p (126.7p)
Heifers
Light to -------p (-------p)
Medium to 127.5p (114.9p)
Heavy to 138.5p (125.9p)
Young Beef Bulls to -------p (-------p)
Hoggs
Light to 124.8p ( 99.3p)
Standard to 121.0p (105.0p)
Medium to 128.7 (106.7p)
Heavy to 108.9p ( 98.8p)
Others to -------p (-------p)
Ewes
Light to £39.00 (£22.80)
Heavy to £64.50 (£35.87)
Cast Rams £68.50 (£33.54)

Longtown Primestock Sale - 3rd January 2007


Longtown Primestock Sale - 27th December 2007


Longtown Primestock Sale - 20th December 2007