Longtown Primestock Sale
03/01/08
The Cumberland & Dumfriesshire Farmers Mart P.L.C. had forward 92 prime cattle, 0 young bulls, 7 OTM cattle, 6,426 prime hoggs and 5,904 cast ewes & rams at their weekly sale at Longtown on Thursday 3rd January, 2008.
Top price in the heifer section was a Charolais from J. & N. Blaylock & Son, Hallburn, selling at 144.5p, 142.5p and 141.5p purchased by M. Wharton, Wigton and W. Kirkup, Butcher, Longtown, others to 138.5p, 135.5p and 134.5p Hallburn, 133.5p Easton Farm and Houghton House; Belgian Blue 139.5p, 138.5p from Messrs G.P. & E.A. Coates, Beckhall to Messrs Nattrass, Butcher, Carlisle; Limousin 138.5p Beckhall to W. Kirkup, 136.5p Houghton House, 134.5p Englishtown, 132.5p Sceughdyke, 131.5p Englishtown. The bullock section was topped at 144.5p for a Belgian Blue from J.C. & D. Nicholson, The Gill to Woodhead Bros., Colne; Limousin 137.5p Hallburn, 133.5p, 130.5p (x2) Newtown Farm; Charolais 134.5p (x2), 131.5p Hallburn, 131.5p Sceughdyke; Saler 131.5p Hallburn.
A small show of OTM cattle sold to 81.5p for a Belgian Blue bullock from The Plumpe; Angus 69.5p Plumpe. Cows to 64.5p for a Limousin from Greenknowe; Friesian 62.5p Rownanburnfoot.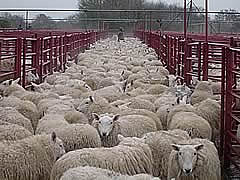 The 6,426 prime hoggs were sold to a large ringside of buyers who ensured a fine trade to average 101.1p. Export lambs were in demand. Top was 133.3p per kilo for Beltex's from W. Bell & Co., Greenknowe. Top per head of £53.50 for Beltex from Cumlongan Mains, others to £51.80 Mouldy Hills; Texel £51.80 North Greenhill; Suffolk £49.20 Dyke; Charollais £47.80 Aldermanseat; Greyface £46.20 Middle Shipley; North Country Cheviot £45.80 Whiteknowe; Half Bred £45.80 High Moat; Bleu d'Maine £45 Boreland of Southwick; Blackface £44.20 Sceughdyke; Lleyn £44 Westerhouses; Leicester £44 Granton; Herdwick £42.20 Kelmore Hills; Cheviot £41.80 Potholm; Cheviot Mule £41.80 Granton; Zwartbles £40.20 Turnbank; Masham £39.20 Colter Coats; Kerry £35 Whitcastles.
Light lambs (1182) were again in demand, but there was a shortage of well fleshed lambs. They sold to a top of £40.20 for Charollais from Kelmore Hills; Beltex £40 Greenknowe; Texel £38.80 Shankfield Head; Suffolk £38.20 Low Farm; Jacob £36.80 Summerhill; Greyface £35.80 Beechcroft; Cheviot Mule £35.80 Murtholm; Blackface £35.80 Upper Glendivan; Cheviot £33.20 Allfornaught; Herdwick £31.80 Copperthorns; Soya £27.80 Copperthorns; Swaledale £25.80 Nookton; Shetland £25.20 Galtway.
The cast ewes and rams were a larger show and with the usual buyers present, trade was very similar to last weeks high rates. Top was £66.50 & £64.50 for Texel ewes from Roadside, £60.50 Low Farm & Green End. Suffolk x £55.80 Moorside, £54.80 Roadside, Suffolks £55.50 Loughrigg, Bleu de Mains £60.50 Loughrigg, Charollais £59.50 Roadside & Low Farm, Halfbreds £51.50 Sceughdyke, Leicesters £52.10 Granton, Cheviot Mules £36.50 Murtholm, North Country Cheviot £44.50 Humbleheugh, Greyfaces £40.50 Sceughdyke, Masham £36.50 Coltcoats.
Hill ewes to £36.50 for Cheviots from Alfornought, Blackfaces £35.50 Stooprigg, £34.50 Albierigg £32.50 Quarry House. Swaledales £26.50 Albierigg, £25.50 Beechside & Wilson Park, Herdwicks £26.50 Kelmore Hill.
Rams to £57.50 for Leicesters from Roxburgh Mill, Texels £55 Coltcoats, £51.50 Walkergate, Suffolks £40 Leadgate, Charollais £50 Ballyclare, Cheviots £51.50 Leadgate, Blackfaces £34.50 Leadgate, Swaledales £22 Knarr.
Averages:
Steers
Light to -------p (-------p)
Medium to 125.5p (125.5p)
Heavy to 144.5p (125.8p)
Heifers
Light to -------p (-------p)
Medium to 123.5p (117.8p)
Heavy to 144.5p (126.1p)
Young Beef Bulls to -------p (-------p)
Hoggs
Light to 133.3p ( 89.3p)
Standard to 124.8p (105.6p)
Medium to 130.4p (105.4p)
Heavy to 108.0p ( 93.9p)
Others to -------p (-------p)
Ewes
Light to £36.50 (£22.21)
Heavy to £66.50 (£37.07)
Cast Rams £57.50 (£37.13)

Longtown Primestock Sale - 27th December 2007


Longtown Primestock Sale - 20th December 2007


Longtown Primestock Sale - 13th December 2007