Longtown Primestock Sale
17/01/08
The Cumberland & Dumfriesshire Farmers Mart P.L.C. had forward 71 prime cattle, 2 young bulls, 33 OTM cattle, 5,389 prime hoggs and 5,502 cast ewes & rams at their weekly sale at Longtown on Thursday 17th January, 2008.
All classes of clean cattle were again a fast selling trade and dearer on the week. Top price of 143.5p for a Limousin heifer from J Retson & Son, Gardrum, others to 135.5p Englishtown, 134.5p Houghton House, 133.5p Hallburn & Englishtown, 132.5p Houghton House. Belgian Blue heifers from Hallburn sold to 142.5p, 140.5p, Charolais 141.5p, 140.5p Hallburn, 135.5p Sceughdyke. Devon heifers 131.5p Houghton House.
Bazadaise bullocks from Hallburn sold to 141.5p, Limousin 138.5p The Gill, 137.5p Hallburn, 136.5p The Gill, Bydekirk Mains, 133.5p Nunscleugh. Blondes 139.5p, 138.5p Toppin Castle, Charolais 131.5p Hougton House.
OTM cattle also met a fast trade with Limousin to 88.5p Shankbridgend, 87.5p Nunscleugh, Friesian 85.5p Hillhead, Galloway 71.5p Unthank, Devon 83.5p Englishtown.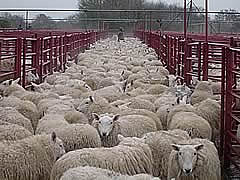 The hoggs were a lot sharper on the week with 37 – 42 kilos well in demand. A packed ringside of buyers assured a flyer and a sale average of 114.2p. Top price £60.80 for Texels from Sunnycroft, others £56.20 Gallowberry, £55.80 Distillery House, Suffolk x £57.80 Mouswald Grange & Dunjop, £56.80 Mouswald Grange & Jacksonsrigg, Cheviot £48.50 Blackburn, £44.80 Winterhope, Charollais £58.20 Balcraigmoor, £53.80 Torhousemuir, Halfbreds £47.20 Mouswald Grange, Greyface £50.20 Bennettsfield, £50 Westburnhope, Cheviot Mules £46.80 Sceughdyke, £43.80 Dinley, Leicesters £50.20 Sanders Close, Blackfaces £49 Blackburn, £45.80 Castlemilk, Hott & Coshogle, North Country Cheviots £49.20 Colter Coats, Swaledale £42.80 West Foreshield, £40.20 Sanders Close, Herdwicks £45.80 The Green, Jacobs £41.80 Newbiggin, Beltex £56.80, £52.80 Mouldy Hills, LLeyn £38.80 Priorsford, Zwartbles £45 Mossband House, Roussin £41 Debog, Hampshire £46.20 High Dovecote.
Lightweight hoggs to £44.20 for Beltex from D'Mainholm, Suffolks £38.80 Low Lonning, Cheviot £36.50 Cadgillhead, Texels £43.20 Barnglieshead, Charollais £39.80 Cadgillhead, Greyface £36.80 Greensburn, Blackface £38.80 Castlemilk, North Country Cheviot £38.80 D'Mainholm, Swaledale £36.80 Sandersclose, Welsh £35.20 Longbrough Fauld.
The cast ewes and rams were a similar entry and with more buyers present, all classes maintained late high rates.
Top was £70.50 for heavy Texel ewes from Walkergate, others to £69.50 Redbanks, £68.50 Ballyclare & Waterhouse. Beltex £66.50 Newry, £64.50 Redbanks. Charollais £62.50 Newry, £60.50 Ballyclare. Leicesters £46.50 Newbigging Walls, North Country Cheviots £46.50 Lighthouse. Greyfaces £45.50 Dunjop, £43.50 Brisco Hill, Bleu de Maines £61.50 Ballyclare, Suffolks £58.50 Colmslie Hill, £55.80 Riddle Cottage, Halfbreds £48.50, £44.50 Mossknowe & Waterside, Cheviot Mules £38.50 Colmslie Hill.
Hill ewes to £33.50 for Cheviots from Cleughhead and Sorbie, £32.50 Pingle, Blackfaces £31.50 Tarn House, £30.50 Greyside, Stackbraes & Sceughdyke, Swaledales £25.50 Derwent House, £24.50 Highberries, Shetland £25.50 Kirkend.
Rams to £74.50 for Suffolks from Horsley Hill, £66.50 Meikle Tongue, Texels £64.50 Meikle Tongue, Cheviots £54.50 Adderston Shiels, Charollais £47.50 Ballyclare, Bleu de Maines £46.50 Middle Farm, Leicesters £43.50 Ballyclare, Kerry £34.50 High Dubwath, Blackfaces £37.50 Hott.
Averages:
Steers
Light to -------p (-------p)
Medium to 136.5p (132.9p)
Heavy to 141.5p (129.5p)
Heifers
Light to -------p (-------p)
Medium to 115.5p (105.1p)
Heavy to 143.5p (127.3p)
Young Beef Bulls to 83.5p ( 81.6p)
Hoggs
Light to 131.7p (103.2p)
Standard to 137.9p (115.2p)
Medium to 137.0p (115.2p)
Heavy to 118.7p ( 107.1p)
Others to -------p (-------p)
Ewes
Light to £33.50 (£21.24)
Heavy to £70.50 (£36.86)
Cast Rams £74.50 (£35.45)

Longtown Primestock Sale - 10th January 2008


Longtown Primestock Sale - 3rd January 2008


Longtown Primestock Sale - 27th December 2007