Longtown Primestock Sale
13/12/07
The Cumberland & Dumfriesshire Farmers Mart P.L.C. had forward 85 prime cattle, 7 young bulls, 14 OTM cattle, 4,526 prime lambs and 5,710 cast ewes & rams at their weekly sale at Longtown on Thursday 13th December, 2007.
The 85 prime cattle forward saw light weight heifers under 24 months meet the dearest trade of the season, selling to 145.5p (twice) for Limousin heifers from R.M. & P. Armstrong, Slealands and J. & N. Blaylock, Hallburn, and purchased by Messrs Malone, Edinburgh and W. Kirkup, Butcher, Longtown, others to 140.5p and 138.5p Hallburn and Maulscastle, 136.5p Hallburn, 133.5p Middle Farm, 132.5p Hallburn and Maulscastle, 131.5p (twice), 130.5p Houghton House, 130.5p Slealands; Charolais 138.5p Houghton House to Messrs Malone, 134.5p Hallburn, 129.5p Sceughdyke. Limousin bullocks from Maulscastle Farming sold to 145.5p to T. Head, Essex, others to 138.5p Nunscleugh, 131.5p Hallburn; Charolais 135.5p Hallburn to M. Wharton, Blackbrow, 132.5p Sceughdyke; Belgian Blue 131.5p, 128.5p Hallburn. Young bulls were also dearer selling to 125.5p and 116.5p for Limousins from Hallburn.
A smaller show of OTM cattle saw trade the same as last week with Limousin cows to 85.5p Morley Hill; Black & White 55.5p; Blonde 53.5p.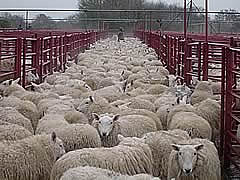 4,526 head of prime lambs were forward at Longtown on Thursday to a busy ringside of buyers. Trade was as buoyant as in many weeks with good export types keenly sought after to average 84p per kilo overall. The sale was topped at £45.80 for Beltex lambs from Messrs McIlwraith, Mouldy Hills who also secured top price per kilo of 115.6p. Other Beltex to £44.20 Nunscleugh; Texel £44.80 Hallsoven, £42.80 Swainsteads; Charollais £40.80 Clement Leazes, £39.80 Light House; Suffolk £39.20 Archerbeck, £38.80 Ashley Park and Falnash; Blackface £37.20 Parish Holm, £34.50 Riskinhope; North Country Cheviot £37.20 Potholm and Whiteknowe; Hill Cheviot £37.20, £36.20 Catslackburn; Half Bred £36.80 High Moat; Lleyn £36.20 Westerhouses; Greyface £36 Drinkstone, £35.80 Newington and Yewtree; Leicester £35.50 The Nook; Zwartbles £35.20 Skiddaw View; Cheviot Mule £35.20 High Stenries; Swaledale £29.80 Bullshill.
The 1,123 light lambs were also in demand if well fleshed, along with good quality tup lambs. Top price of £38.20 for Suffolk crosses from Messrs Hewson, Drumcork; Beltex £37.20 The Old Police House; Texel £34 Copperthorns, £33.50 Beechcroft; Greyface £32 Miller Hill, £31.80 Bellbank; North Country Cheviot £31.20 Hebblethwaite; Blackface £30.80 Riskinhope; Roussin £29.20 Debog; Herdwick £28.20 Beechcroft; Cheviot £27.70 Catslackburn; Beulah £26.80 Nettling Flatt; Swaledale £26.20 Bullshill; Lleyn £25.80 Priorsford.
Another large show of 5,710 cast ewes and rams forward attracted the usual buyers with trade very similar to previous weeks to average £27.74 overall. Top of £68.50 for heavy Texel ewes from Leadgate, £66.50 Ballyclare, £64.50 Chaudy; Beltex £62.50 Sibminster and Ballyclare; Suffolk £56.50 Colter Coates; Bleu d'Maine £54.50 Roadside; Suffolk cross £51.50 Leadgate and Derwent House; Charollais £52.50 Roadside; North Country Cheviot £49.50 Glencroft, £48.50 Olrig Mains and Wester Dunnet; Half Bred £48.50 Sceughdyke; Leicester £46.50 Walkergate, £44.50 Low Carry House; Greyface £37.50 Sceughdyke, £35.50 Cruves; Cheviot Mule £39.50 Sleetbeck; Zwartbles £35.50 Middlebie Rigg. Hill ewes to £33.50 for Lonks from Laverhay; Lleyn £29.50 Satchells; Cheviot £28.50 Bradley Farm; Blackface £27.50 Low Carry House; Swaledale £22.50 Walkergate; Shetland £21.50 Light House. Rams to £60 for Texels from Walkergate; Suffolk £54.50 Leadgate; Leicester £53.50 Walkergate; Cheviot £52.50 Wester Dunnet; Charollais £51.50 Walkergate; Lleyn £50 Over Whitlaw; Zwartbles £40 Miller Hill; Dorset £31.50 Rockholms; Blackface £27.50 Walkergate; Swaledale £25.50 Woodhall.
Averages:
Steers
Light to -------p (-------p)
Medium to 138.5p (138.5p)
Heavy to 145.5p (119.0p)
Heifers
Light to -------p (-------p)
Medium to 134.5p (113.8p)
Heavy to 145.0p (123.7p)
Young Beef Bulls to 125.5p (107.6p)
Lambs
Light to 113.9p ( 79.9p)
Standard to 115.6p ( 91.1p)
Medium to 110.5p ( 86.6p)
Heavy to 83.0p ( 75.2p)
Others to 75.4p ( 66.2p)
Ewes
Light to £33.50 (£15.33)
Heavy to £68.50 (£33.40)
Cast Rams £60.00 (£35.30)

Longtown Xmas Primestock Sale - 6th December 2007


Longtown Primestock Sale - 29th November 2007


Longtown Primestock Sale - 22nd November 2007


Longtown Primestock Sale - 15th November 2007