AGCO Confident in Laverda
03/07/07
The investment being made by AGCO Corporation to form a 50:50 joint venture with ARGO SpA for the production of combine harvesters, has been welcomed by ARGO's president Valerio Morra as a vote of confidence in the competence of the Laverda business.
Laverda M306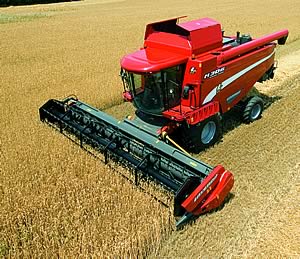 "This agreement is important recognition of the quality and professional capabilities we have developed in Laverda over the years," he says. "The joint venture is in the best interests of the two companies and we are confident we have found common ground and interests with a partner that shares the same objectives as ARGO."
Laverda is a major producer of combine harvesters in Europe, making more than 700 machines last year. The company and its wholly-owned subsidiary Fella-Werke, which makes grass harvesting equipment in Germany, generated a sales turnover of €133 million (£90 million).
Under the agreement, which remains subject to approval by European Union competition authorities, the US-based AGCO Corporation will invest in a 50% shareholding in Laverda SpA to create a joint-venture business headed by Mr Morra.
In continuation of an OEM supply agreement begun in 2004, Laverda will manufacture combine harvesters at its engineering and production facility in Breganze, northern Italy, for distribution by AGCO.
It will also continue to make the full line of Laverda combines distributed through the company's own dealer network.
"Laverda combines have a well-deserved reputation for durability and a technical specification that is traditional, effective and reliable," says Andrea Ugatti, export manager for the UK. "Our specialist dealers continue to support customers with parts and service for the Laverda combines operating on British farms, while also supplying new combines to new and existing Laverda users."
The specialist dealers in Britain are Michael Garwood at Alton in Hampshire, covering southern England; Burgess Group, which has several branches serving the Midlands and Wales; and Yorkshire-based Wilfred Scruton, with branches at Driffield and near York, handling Laverda sales and service in the north of England.
The range is led by the high performance Laverda M Series with engine power outputs of up to 335hp while the LCS and REV ranges provide a choice of performance and specification levels to suit professional and smaller farm users alike.
Note:
ARGO SpA is a privately-owned group based in Italy that in addition to Laverda combine harvesters produces Landini, McCormick and Valpadana tractors, Fella grass machinery and Pegoraro cultivation implements.
AGCO Corporation is a US-based agricultural equipment manufacturer.

AGCO Corporation Takes Stake in Laverda


Multi-Purpose Handler from Landini is a Versatile Power Unit


Keen Interest in New McCormick XTX165 Tractor at Cereals 2007


Kuhn Farm Machinery at Cereals 2007