Keen Interest in New McCormick XTX165 Tractor at Cereals 2007
22/06/07
Farmers and contractors visiting the Cereals 2007 event last week took a keen interest in McCormick's newest tractor, the XTX165.
Farmers at the Cereals 2007 event took a keen interest in the McCormick XTX165, which introduces new styling and colours as well as a new specification package to the range.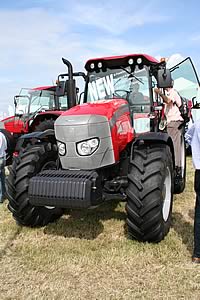 The newcomer is scheduled to go into series production this autumn – alongside the similar XTX145 – to provide a more feature-packed alternative to McCormick's established MTX models for operators wanting higher levels of performance, productivity and driving features.
Engine power
Both are powered by a McCormick BetaPower six-cylinder diesel engine with full-authority electronic fuel injection management.
In the McCormick XTX145 it develops up to 145hp for draft work and 156hp for pto-driven implements and transport operations. The same power management system on the McCormick XTX165 engine increases output to 171hp from a draft work maximum of 167hp.
"The great thing about this system is that it works automatically – it's not something the driver has to switch on and off," explains Paul Wade, McCormick technical specialist. "Whenever the tractor's gearbox is in the top range or sensors detect a significant load on the pto shaft, the electronics change the fuelling strategy to make the additional power available."
New features
Apart from the higher performance engines, the new XTX tractors have a host of improvements over the MTX design, including the XtraSpeed transmission, which has twice as many ratios in total, twice as many powershift speeds in each range and automatic powershifts for easier road travel.
"Whether working in the field or driving on the road, the XtraSpeed's eight powershifts give McCormick XTX drivers unrivalled ground speed control and versatility," says Paul Wade. "With more ratios than other tractors covering the important working and travel speeds, the XTX driver finds it is easier to locate the best speed for maximum productivity."
Other features include a 40kph cruising speed achieved at a quieter and more economical 1850rpm; a 50kph transmission option; and pto speed settings that use lower engine revs to coincide with the engine's torque and power characteristics.
In addition, the three-point linkage lift cylinders are externally-mounted and have 8000kg of lifting power – 21% (1400kg) more than on the MTX; there are triple-disc brakes instead of single-disc units for more effective braking performance; and a 13% (35-litre) increase in fuel tank capacity for more working hours between refills.
Drivers also get the XTX four-post cab with fully-glazed doors filling both sides of the frame for unrivalled visibility, plus new storage features and optional seat-mounted transmission and hydraulic controls.
External changes include new McCormick styling with a sleek, rounded one-piece bonnet, rounded rear mudguards and a wedge-profile cab roof panel in addition to the new red, silver and grey colour scheme introduced across the entire McCormick range.

New Models and New Colours for McCormick Tractors at Cereals 2007


P & D Engineering Joins McCormick's National P & D Engineering Network


New front hitch and pto for McCormick MTX tractors


McCormick sales director calls for realistic tractor pricing