AGCO Corporation Takes Stake in Laverda
26/06/07
AGCO Corporation, a worldwide manufacturer and distributor of agricultural equipment, yesterday announced that, subject to the approval of the competition authorities, it has agreed to acquire 50% of Laverda S.p.A from the Italian ARGO group.
Laverda 296 LCS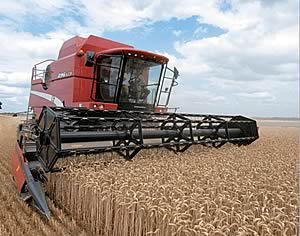 ARGO owns a number of manufacturing, service and distribution companies as well as some prestigious trademarks, all operating exclusively in the traditional agricultural machinery sector.
Based in Breganze, in Northern Italy, Laverda operates one of the most modern and efficient production facilities for harvesters in Europe. In addition to producing Laverda branded combines, the Breganze factory has been manufacturing mid-range combine harvesters for AGCO's Massey Ferguson, Fendt and Challenger brands for distribution in Europe, Africa and the Middle East since 2004. In 2006, Laverda's annual consolidated net sales were approximately 133 million.
"This investment reinforces AGCO's market positioning and supports our strategic aim of taking a leading position in the European harvesting business," commented Martin Richenhagen, Chairman, President and CEO of AGCO.
The joint venture will further improve AGCO's product offering of harvesting equipment and is expected to provide a foundation for long term product development.
"AGCO is committed to growth in the harvesting markets. With the combined sales volumes of the Laverda brand and our AGCO brands, we will be well positioned in the competitive marketplace," said Gary Collar, Senior Vice President and General Manager, Europe, Africa and Middle East (EAME).
The joint venture also includes Laverda's ownership in Fella-Werke GMBH, a German manufacturer of grass and hay machinery, and its 50% stake in Gallignani S.p.A, an Italian manufacturer of balers. The addition of the Fella and Gallignani product lines enables AGCO to provide a comprehensive harvesting offer to its customers.
Mr. Collar continued, "Overall, the integration of harvesting development activities for Europe will significantly improve AGCO's base of resources committed to the harvesting business."
"Our success in selling Massey Ferguson, Fendt and Challenger combines manufactured in Breganze over the past few years has given us confidence in a broader agreement," explained Martin Richenhagen. "Both AGCO and ARGO will benefit from this strategic partnership by combining the strengths of both companies' product development, distribution and manufacturing resources in the harvesting sector."

AGCO Confident in Laverda


Multi-Purpose Handler from Landini is a Versatile Power Unit


Keen Interest in New McCormick XTX165 Tractor at Cereals 2007


Kuhn Farm Machinery at Cereals 2007