17/12/06

The only Requin bred daughter in the sale attracted the greatest interest for the annual Bailea heifer sale for Brian, Matthew and Susan Jones.

Bailea Voyele - 21,000 guineas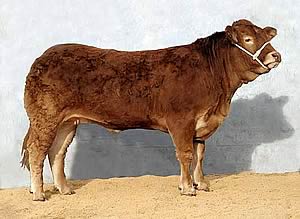 Bailea Voyele, a September born heifer, had to her credit the Champion heifer 2005 in the South Wales & West Midlands herd competition. This very correct heifer was sold for 21,000gns to join the Ironstone herd for Smiths of Bloxham based in Banbury.
Smiths of Bloxham, also purchased the next leading priced heifer from Bailea. A very stylish heifer with thickness throughout, Bailea Amazing Grace was the first Salomon bred heifer to be sold through auction. She sold for 18,000gns.
The other consignor to the sale was Tom Cheshire of the Parkhouse herd. Toscane, an imported cow, sold with her bull calf at foot Parkhouse Bullet, Toscane, a second calved daughter sired by Papillon, she also sold to Smiths of Bloxham.
Averages:
Bailea Herd
56 Bulling & Maiden Heifers £2,232.19
Parkhouse Herd
8 Cows served and/or suckling £3,268.13
10 Served Heifers £1,638.00
7 Bulling and Maiden Heifers £1,357.50

Classy Limousin Champion & Reserve Sweep at Royal Smithfield


Limousin Heifer wins 2006 National Primestock Show


Export Boom For Aberdeen-Angus