07/12/06

The Aberdeen-Angus breed carried off a clutch of top awards at the new-look Royal Smithfield Christmas Fair on Saturday (December 2).

Duke of Norfolk Trophy presentation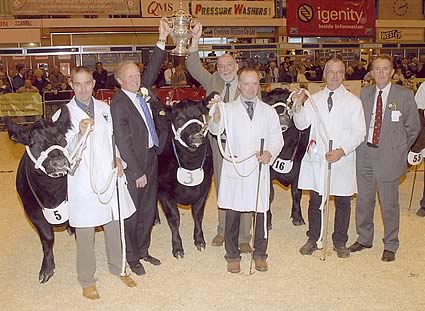 The highly-prized Duke of Norfolk Trophy for the best group of three pure-bred steers was won by Aberdeen-Angus - repeating the breed's success of two years ago at London's Earls Court - and the breed also walked away with the Queen Mother's Perpetual Trophy for the native breed champion and the pedigree cattle championship. Aberdeen-Angus also stood reserve in both sections.

"This is the most successful day the Aberdeen-Angus breed has enjoyed at the Royal Smithfield Show for many years," said a delighted breed president, Nigel Hammill, owner of the Tegsnose herd at Pyegreave Farm, Coalpit Lane, Langley, Macclesfield, Cheshire.

Britain's top prime stock show, held at the Royal Bath and West Showground, Shepton Mallet, Somerset, was being held outside London for the first time since its foundation in 1799.

Leading the Aberdeen-Angus onslaught was the 20 month old heifer, Lockerley Kind Princess E549, which was stepping up from reserve overall champion at the National Primestock Show two weeks ago.

Sired by Idvies Euris B112 and bred by Leonard van Geest, Lockerley Hall Farm, Romsey, Hants, the heifer was exhibited by Michael Kirby, Milton Mill Farm Milton Damerel, Holsworthy, Devon, and won a string of championships at the local shows.

The heifer was joined by the reserve pedigree and native breeds' champion, the 14 month old heifer, Carlhurlie Emberiza, by Skaill Dotcom, from Rae Grieve, Carlhurlie, Lundin Links, Fife, and the 20 month old steer, Billy Boy, by Rawburn No Limits, from Stewart Ogle, Jennywoodston Farm, Kippen, Stirling, to complete the team which won the Duke of Norfolk Trophy.

Reserve champion in the Aberdeen-Angus section was the 14 month old steer, Back to Black, by St Fort Pilot, from M and H D Currie, Skewbridge, Mouswald, Dumfries.

Class results for pure-bred Aberdeen-Angus or sired by Aberdeen-Angus bull -

Heifer – 1 Michael Kirby's Lockerley Kind Princess E549; 2 Andrew Stevenson's Maria' 3 Rae Grieve's Carlhurlie Emberiza.

Junior steer – 1 Andrew Stevenson's The Gruffallo; 2 M and H D Currie's Back to Black; 3 Lynher Valley's Billywhizz.

Senior steer – 1 Brailes Livestock's Black Velvet; 2 A E and C R Bishop's Elmo; 3 Stewart Ogle's Billy Boy.

Classy Limousin Champion & Reserve Sweep at Royal Smithfield


Limousin Heifer wins 2006 National Primestock Show


Export Boom For Aberdeen-Angus