06/12/06

Mark Hallam, Meadowhurst, Wetton, Ashbourne, Derbyshire carved his name into the Royal Smithfield history books when his classy Limousin steer, the Deer Stalker, won the coveted Supreme Champion title at the Show's new Shepton Mallet venue.

The Deer Stalker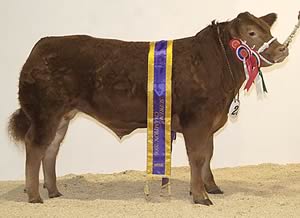 A 7/8ths bred Limousin, the 598kg, 16-month-old beast is by Goldies Oswald and is out of Royal Smithfield's 2000 Champion Heifer, the Limousin sired Bambi 1st . He is also a full brother to Top Notch, Mr. Hallam's prolific winning heifer that claimed the lightweight heifer championship at Smithfield in 2002.

The Champion animal had been called The Deer Stalker as over the show season Mark had, in friendly rivalry, been stalking Bambi 5th, the appropriately named Overall Reserve from the well-known showman Elfed Williams, of Station Court, Sennybridge, Brecon. Earlier in the year, the pair had gone head to head at Countryside Live, Harrogate where Bambi, a 7/8th Limousin heifer, had eventually prevailed. In a touch of irony, it was Elfed Williams who had owned and shown Bambi 1st, , the 2006 Champion's mother, back in 2000. Deer Stalker was bought privately in July by Mr Hallam from brothers Joe and Simon Blandford, of Netherton Farm, Eastnor, Hereford who were also the breeders of Top Notch.

It was a cracking show of Limousin cattle that culminated in high percentage Limousins leading both the steer and heifer sections and finishing up Overall Supreme and Reserve. Saturday's Championship judging was played out before a packed ringside and with a level of intensity that befitted the quality of cattle on show at what is the year's Premier Winter Fair.

Mr Hallam has for the last 15 years kept up to six show cattle annually as a hobby. By day he is a plant hire and ground works contractor. He was absolutely delighted with his blue riband win and said: "This is brilliant, unbelievable and absolutely awesome! I knew he was a good steer with a chance, but the standard is so high that you can never be overconfident. Limmies are the business for this job, they are the perfect butcher's animal."

This last comment was fully backed up when Gerald David, Minehead, Somerset paid out a whopping £9,500 - or £15.88 per kg - to secure the Supreme Champion. Mr David and his family run a chain of butchers' shops and a large catering business throughout the West Country from their base in Minehead. No strangers to the showring themselves, son Simon recently judged at the Royal Welsh Winter Fair.

Elfed Williams' Bambi stood at the show as an18-month-old, 542kg Limousin 7/8th heifer. Sired by GlanmiIheli Thumper, A Cloughhead Nifty son, Bambi is out of the Limousin cross Miss Royal, a seventeen time show winner for Derek Winney. She had been bought privately as a three-month-old from breeders A.J. and J.A. Powell of Grove Farm, Knighton, Powys. Mr Williams, an agricultural merchant, also shows cattle as a hobby, buying in up to 10 annually. This fantastically meaty heifer was brought out by stockman Neil Lloyd. At sale time, Bambi sold at £4,000 - £7.38 per kg - to Field Farm Fresh in Appleton.

Championship judge was Brian Glaves, of Scarborough, who runs his own meat-processing business. He was full of praise for the cattle presented and said that he had been looking for cattle without much waste on them. "It costs me £150 a tonne to dispose of heads and feet," he said. "I've been looking for a beast that is well fleshed and has an excellent meat to bone ratio. I've also been looking for something where the price is right in steaks, rump, sirloin and a top line as that is where the money is in my profession. Both my Champion and Reserve fit that bill."

The Champion had, of course, come through to the final judge off from the steer section judged by Richard Bartle, Lodge Hill Farm, Park Lane, Shifnal, Shropshire. In the finals, he was awarded Best Heavyweight Steer and Supreme Champion Steer before taking the day's top prize. In his original class, the Deer Stalker had to fight off fierce competition from the second placed Culbone Tornado from Gerald David & Family. This ¾ bred, 13-month-old Limousin steer, was sired by Bailea Spunkie and is out of a Lim cross cow.

Elfed Williams also met with success in the steers when leading Jock the Cock to a class win and Overall Reserve Intermediate Steer section title. This September born beast, weighing in at 508kgs, had been Steer Champion at the Thainstone Spectacular where Mr Williams had purchased the animal for £2800. By Middledale Toronto, he was bred by J.S. Wilson, Western Cairnglass, Inverness. Again coming through a strong class he had pipped Mr & Mrs MJ Alford, Foxhill Farm, Cullompton, with their October 2005 born 514kgs, Marmite. This beast was sired by Hightown Racer and is out of a Lim cross cow. It was bred by JW Smith Jackson, High Town Farm, Haltwhistle, Northumberland.

In the heifer section, judged by Orcadian Stewart Wood, Garson Farms, Sandwick, the competition was equally intense with three fantastic Limousin classes. Bambi came through her class to move on to take the Best Heavyweight Heifer section, Supreme Heifer Championship and Overall Reserve Supreme. In her original class she pushed SE Sellers, Greentop, Kilburn, Belper, Derbyshire with The Diva, into second place. This March 2005 heifer is again ¾ bred Limousin being sired by Nouvelle Supersonic and out of a Limousin cross cow. Weighing 568kgs, this beast was bred by P Dawes, Marden, Worcester.

Following on from success at the National Primestock Show and Welsh Winter Fair, pedigree Limousins were again very evident in the Championship shake-up. In fact it was another Limousin one-two with pedigree Lims placing Champion and Reserve in the Best Pure Continental Breed Beast in the Show. Taking the Championship was Frank Jones & Son, Llanfair, Hall Farm, Caernarfon, Gwynedd with their homebred April 2005 born Llanfair Abramovich. This 706kgs, 20-month-old steer, was sired by Bailea Spielberg and is out of Vaenol Ozone.

Standing in Reserve was Vicky Maynard & Matt Smith, Caseberry Farm, Bradninch, Exeter, Devon with their April 2005 born heifer Columbpark April. Weighing in at 622kgs, this heifer was sired by Ringway Romeo and is out of the Greenbank Osirus sired Columbpark Sky.

Mrs Laura Rea (nee Cheacker), Ostbridge Manor Farm, Pilning, Nr Bristol capped a highly successful show season when she secured the Young Farmer's Championship. Homebred and picked out by Laura herself as a calf, this July 2005 born heifer was sired by Staveley Hurricane. Prior to Smithfield, this young heifer weighing 554kgs had won the Overall Heifer Championship at the National Primestock Show at Bingley Hall.

Rounding of another fantastic show for the Limousin breed was Lackham College, home to the Society sponsored Lackham Limousin project, winning the FABBL Rosebowl for the National Festival of Meat Champion Beef Ribs with an entry from an animal sired by the homebred bull Lackham Stewart.

Limousin Heifer wins 2006 National Primestock Show


Export Boom For Aberdeen-Angus


Tyrone Limousin Breeders take honours at Dungannon