14/11/06

An innovative and patented twin-auger design combined with free-swinging discharge hammers working against an adjustable deflector are the key to the versatility and high output capacity of Kuhn Farm Machinery's new Pro-Twin Slinger side exit manure spreader.

Kuhn Farm Machinery's new Pro-Twin Slinger
side exit manure spreader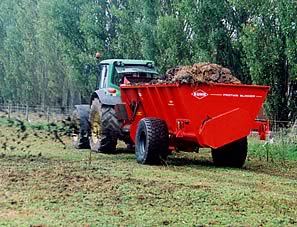 Available initially as the 9 cubic metre capacity 8124 model, the Pro-Twin Slinger moves material rearward with a raised right auger in order to keep the left auger evenly charged to feed the forward-situated discharge hatch. This rotational movement keeps the load level and prevents "bridging", whatever the consistency or moisture content of the manure.

Additional versatility is afforded by the free-swinging forged-steel discharge hammers, which pulverise the material and propel it in an even and controlled spread pattern. Discharge can be regulated on-the-move with an hydraulically controlled deflector that can adjust the spread width from a 1 metre wide deposit to a 15 metre finely distributed pattern.

Externally mounted nylon auger bearings are used in preference to the more traditional roller bearings as they give improved tolerance of overloading and contamination, and are more cost-effective to replace. The drive at the front is a heavy-duty roller chain that runs in oil and has spring-loaded self-aligning poly tighteners for extended life.

The price of the ProTwin Slinger 8124 starts at £17,000.

Kuhn Big Bag Fertiliser Lifter Extended for 600kg Bags


Hydraulic Drive Straw Blower Extends Kuhn's Primor Range


High Volume Diet Feeders Extend Kuhn's Euromix Range


Kuhn Spreader Hits the Fertiliser Target


Kuhn Ploughs Now Available With Wide Tyre Bodies


Kuhn Launches Cover Crop Seeder At Cereals 2006


Kuhn Twin Disc Spreader First For Innovation At LAMMA 2006