31/08/06

Kuhn Farm Machinery has extended its UK diet feeder range with the addition of three new high volume twin vertical auger models to its Euromix 80 series, offering 18, 22 and 25m3 capacities.

Kuhn Euromix 2280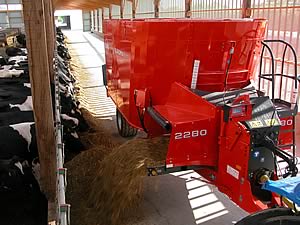 As with the smaller single vertical auger models, these machines are relatively compact and are designed to chop long fibre products quickly and efficiently (e.g. big bale silage/hay) as well as mix and distribute complete diets. Fibre chopping capability is aided by the inclusion of seven serrated knives per auger, whilst overall chopping, mixing and discharge performance is a function of specific design features such as the polygonal body profile and the double pitch on the final quarter-coil of each auger.
An electronic weighing system is fitted as standard to allow ingredients to be metered in accurately and there is an option to fit a programmable function that will store up to 15 rations with as many as 15 ingredients per ration.
Discharge is via a durable PVC full width conveyor belt at the front of the machine that operates to either side and which can be offset to the right and left by 250mm. Optional equipment includes a tilting conveyor that can be fitted to extend the reach beyond the tractor outline, if required, and machines can also be adapted for rear discharge if required.
Euromix 80 series machines all have an inspection platform fitted as standard, allowing safe and convenient viewing of the mixing process. The larger twin auger models are suited to tractors in the 95 – 120hp range and are aimed at herds in the region of 90 – 200 cows.
Specifications and prices for the new twin auger machines:
Euromix 1 1880
18 cu metre mix capacity; 7.95 metres long, 2.44 metres wide, 2.63 metres high; feeding height from conveyor is 550mm. Recommended tractor power – 95hp. Unladen weight – 7,400kg. Price from £34,682
Euromix 1 2280
22 cu metre mix capacity; 8.02 metres long, 2.44 metres wide, 2.90 metres high; feeding height from conveyor is 550mm. Recommended tractor power – 110hp. Unladen weight – 7,600kg. Price from £37,567
Euromix 1 2580
25 cu metre mix capacity; 8.10 metres long, 2.44 metres wide, 3.23 metres high; feeding height from conveyor is 550mm. Recommended tractor power – 120hp. Unladen weight – 8,200kg. Price from £39,094
Specifications and updated prices for the established single auger machines:
Euromix 1 980
9 cu metre mix capacity; 5.51 metres long, 2.44 metres wide, 2.43 metres high; feeding height from conveyor is 550mm. Recommended tractor power – 65hp. Unladen weight – 4,400kg. Price from £20,279
Euromix 1 1180
11 cu metre mix capacity; 5.58 metres long, 2.44 metres wide, 2.70 metres high; feeding height from conveyor is 550mm. Recommended tractor power – 75hp. Unladen weight – 4,500kg. Price from £21,508
Euromix 1 1380
13 cu metre mix capacity; 5.66 metres long, 2.44 metres wide, 2.97 metres high; feeding height from conveyor is 550mm. Recommended tractor power – 85hp. Unladen weight – 4,650kg. Price from £22,442

Kuhn Spreader Hits the Fertiliser Target


Kuhn Ploughs Now Available With Wide Tyre Bodies


Kuhn Launches Cover Crop Seeder At Cereals 2006


Kuhn Twin Disc Spreader First For Innovation At LAMMA 2006


Diet Feeder and Straw Chopper Demos at Beef Expo 2006


Kuhn Extends Intermediate Disc Harrow Range