Landini expands field team to support farm machinery dealers and customers
07/11/06
Helping agricultural machinery retailers give their customers effective after-sales service and good advice on product choice will be the focus of three new members of an expanded Landini tractor team in Britain.
Martin Ingram - Regional Sales Manager for Scotland and the northern half of England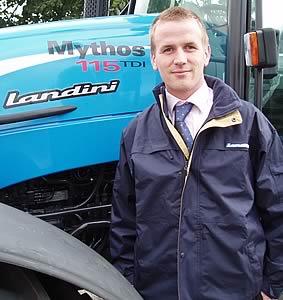 "As more farmers and contractors decide to use Landini tractors for their grassland and arable operations, it's important that we bolster our sales and service team to ensure we give our customers the support they expect," says Adrian Winnett, Landini UK's national sales manager. "Our three new team members will provide this support, drawing on a wealth of practical experience with farm machinery."
Martin Ingram has been appointed Regional Sales Manager for Scotland and the northern half of England. From his home in Inverness, his role will be to help Landini retail dealers choose the right model and specification of tractor to meet the needs of individual customers.
This is familiar territory for Martin, who gained an HND in Agriculture at SAC Aberdeen before working with implement manufacturers Grays of Fetterangus and Fraser Agricultural. He then took on the northern sales manager's role for livestock feeding equipment manufacturer Redrock Engineering.
"I've been impressed with the Landini product in terms of the range of tractors and features available," he says. "From the Powerfarm and Vision for stock and grassland farming to the big six-cylinder Landpower and Powermaster models for contractors and arable work, there's something for every situation."
Chris Hall will work as Product Support Manager across the same geographical area. His focus will be on after-sales support, helping dealers with any technical issues on Landini tractors that farmers have purchased, as well as handling warranty matters and spare parts sales.
He brings to the job many years of hands-on practical experience, first with a large tractor and machinery dealer and more recently as service manager for the DiFuria Group in Lincolnshire, which specialises in farm tractor sales as well as railway and civil engineering plant.
Chris lives at Epworth near Doncaster where Landini UK has its headquarters offices.
John Darby is Landini UK's new Product Support Manager for Wales and the southern half of England. He lives at Grantham in Lincolnshire.
Parts, warranty and after-sales technical issues will be his domain, for which he will put his many years' experience with International Harvester, Case-IH and McCormick to good use.
Landini's recently renewed tractor range is earning a reputation for economical performance and dependable reliability, he points out. But no tractor is perfect, so John's troubleshooting ability and access to the technical resources of the Landini factory in Italy will be invaluable.
Together, the product support team will provide reassuring back-up to dealer technicians specially trained in the routine servicing and repair of Landini products.

Growing business for new Landini tractor retail dealer


Landini Tractors Powerfarm 'Stockman' 95


Landini Overhaul Landpower Tractors


Yorkshire farm machinery firm expands with Landini tractor franchise