Yorkshire farm machinery firm expands with Landini tractor franchise
01/07/06
One of Britain's oldest tractor and farm machinery dealerships, J Wood & Son (Bilsdale Ploughs) Ltd, has been given a welcome opportunity to expand its activities across a larger area in Yorkshire by agreeing to represent tractor maker Landini.
Three tractors from the Landini range - the Mistral compact and Powerfarm utility tractors alongside a Landpower general purpose six-cylinder model.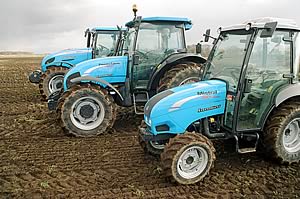 Managing director Mark Bentley points out that the territory stretching south from the Tees to the Humber and west from the North Sea coast to the A1 is significantly bigger than the area covered with the firm's previous tractor franchise.
"As farms consolidate into larger units, machinery dealers need to cover larger areas to maintain a certain level of business and profitability," he explains. "With Landini, we've been given the opportunity to grow in new areas while continuing to look after our established customers."
Both John Woods branches – at Kirkbymoorside and Driffield – are now Landini tractor sales outlets and have taken on a stock of spare parts to service the needs of existing and future Landini users in the area. Each branch has three service technicians using well-equipped workshops and service vans for efficient maintenance and repairs.
"We're delighted to welcome Mark Bentley and his colleagues at J Wood & Son to the Landini dealer network," says Adrian Winnett, Landini UK sales manager. "Having been established in 1874 and operated as a Massey Ferguson dealer since 1928, the company has built an excellent reputation for service and product knowledge. We couldn't wish for a better-qualified dealer to look after Landini users in Yorkshire."
John Woods sales director Tony Towell is equally enthusiastic about the company's new association with Italian tractor maker Landini.
"We considered a number of franchise options but were most impressed by the positive response and ambitions of the Landini UK team," he says. "A visit to Landini's factory in Italy sealed our decision; I was taken aback by the standard of the facility there and the investment that's been made in new products."
The high level of component manufacture also impressed the John Woods visitors; while many tractor manufacturers now turn to outside suppliers for major components, Landini makes its own transmissions, front axles and suspension, hydraulic systems and driver's cabin.
Moreover, the company has completely renewed its tractor range in recent years, adding new and improved features to the 38hp to 50hp Mistral compact and 59hp to 99hp Rex fruit models. The 59hp to 99hp Powerfarm and 80hp to 95hp Vision models make ideal livestock and mixed farm tractors, adds Tony Towell, while the six-cylinder engined 110hp to 184hp Mythos and Legend tractors are suited to heavier work on these farms.
With both livestock, mixed and arable farming operations in their area, however, the John Woods team is especially pleased to see the launch at the recent Cereals 2006 event of the 118hp to 184hp Landpower replacements for the Legend and the new 176hp to 214hp Powermaster arable tractors.
In addition to a number of design refinements, the Landpower range includes two models with a 'power boost' feature for added performance with pto-driven implements and during road transport. The three Landini Powermaster tractors have a similar feature for pto work but also have an auto-shift transmission and sophisticated hydraulics with electric timing and flow control for the external services valves.
"The Landini range has come a long way in recent years and now offers tractors with a good choice of sizes, power outputs and specification levels to suit all needs and budgets," says Mark Bentley. "We're looking forward to showing them to new and existing customers. And since most Landini tractors are powered by Perkins engines, our service technicians can use their wealth of past experience to look after them in the field."

Powermaster takes Landini tractors to new levels of performance


New hydraulic loaders give Landini tractors a lift


Lancashire agricultural machinery dealer wins Landini award


Landini Powers to Tractor Pulling Championship