Skipton Multi-Breeds Sheep Show Success
03/10/06
The annual multi-breeds prize show and sale of pedigree and pure-bred rams and females, supplemented by the 115th show of Wensleydale Longwool Sheep and the second annual sale of pedigree Blue Texels, saw over 1,400 sheep pass through the five sales rings in operation at the busiest sheep sales day of the year at Craven Cattle Marts' Skipton Auction Mart. (Fri, Sept 29)
Mark Evans with his Skipton Suffolk champion.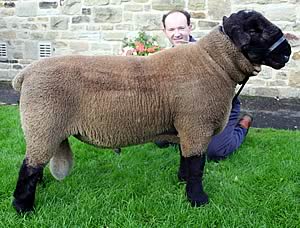 In the Suffolk classes, Mark Evans, of Tower Gate Farm, Steeton, made it a hat-trick of consecutive championship successes with a home-bred shearling ram. The reserve championship also went to another Steeton Suffolk man, Graham Fort, of Brighton House, with his first prize ram lamb, sold for 360 guineas. There was further local success when the top price in class at 670 guineas fell to a shearling ram from G & MA Lawn, of Non-Go-Bye Farm, Skipton.
John Mellin, of Hull House Farm, Hellifield, added to past breed successes at Skipton when his shearling ram took the Texels' title and top price in class at 650 guineas. John also had the top-priced and reserve champion ram lamb, selling at 505 guineas.
It was a big day for twelve-year-old William Beckwith, of JJ Beckwith & Sons, Holme House Farm, Gargrave, when his Beltex shearling ram was awarded the class championship. William is a pupil at Aireville School, Skipton.
A home-bred ram lamb from JC Walker & Son, of Brennand Farm, Dunsop Bridge, was best of the Blue Faced Leicesters, being out of the champion bought by the Walkers at last year's Skipton multi-breeds fixture. John and Claire Mason, of Oddacres Farm, Embsay, who presented the title winner in 2005, were again prominent this year when a shearling ram sold for the best in class price of 1,500 guineas. The Masons also has a ram lamb sell at 900 guineas.
Best of the Charollais was a home-bred shearling ram from John Stott, of Kingsland, Kendal, sold for 400 guineas, though top price in class at 500 guineas went to a shearling ram from Charles Marwood, of Foulrice Farm, Whenby, York, champion in 2005.
In the Zwartbles class, the championship was awarded to a shearling ram owned by Josie Towers, 13-year-old daughter of Robert Towers, of JD & V Towers, Camp House Farm, Farleton, Lancaster. It made the top price of 225 guineas.
Highest price in the Continentals class at 700 guineas went to a Derbyshire Gritstone shearling ram from E&M Hayes, of Cliviger, Burnley. A Beltex/Texel-cross shearling ram from RH Chamley, of Steeton, was knocked down for 500gns.
Father and son sheep farmers Thomas and James Whiteford, of Tercrosset Farm, West Hall, Brampton, Carlisle, again chose the day to stage their third annual production sale at Skipton from their prize-winning Beltex-cross-Texel flock.
The Whitefords entered a total of 60 sheep. They sold to a top price of 700 guineas with a shearling ram, with a total of nine tups selling for over 500gns. Twenty-one shearling ewes averaged 120 guineas, with a top price of 165 guineas, and a further 21 ewe lambs sold to 170 guineas, averaging 116 guineas.
Show Results

Charollais: Champion - J Stott, Kendal, reserve - CW Marwood, Whenby. Aged/shearling ram – 1 J Stott, 2 JD&V Towers, 3 CW Marwood. Ram lamb – 1&2 CW Marwood, 3 J Stott.
Texels: Champion and reserve champion – J Mellin, Hellifield. Ram lamb – 1 J Mellin, 2 RH&MA Ireland, Whalley, 3 S Currie, Rathmell. Shearling ram – 1&3 J Mellin, 2 R Newby, Wetherby. Female – 1 JL North, Doncaster, 2&3 J Mellin.
Zwartbles: Champion – JD&V Towers, Lancaster, reserve – J Rowland, Anglesey.
Beltex: Champion – JJ Beckwith & Sons, Gargrave, reserve – S&J Pepper, Oxenhope. Ram – 1 JJ Beckwith, 2&3 S Pepper.
Suffolks: Champion – ML Evans, Steeton, reserve – G&A Fort, Steeton. Ram lamb – 1&3 G&A Fort, 2 J Calvert, West Marton. Shearling ram – 1 ML Evans, 2 ID&JC Briggs, Guiseley, 3 C Newsham, Preston.
Blue Faced Leicesters: Champion - JC Walker & Son, Dunsop Bridge, reserve – R Mawson, Addingham. Ram lamb – 1 JC Walker & Son, 2&3 AJ Mason. Shearling ram 1 R Mawson, 2 N Heseltine, Malham, 3 D Buckley, Buxton. Female – 1 K Fawcett & Son, 2 S Foster, Arncliffe, 3 TJ France, Chipping.
Averages & Chief Prices

Suffolks: Ram Lambs to 360gns – G&A Fort, Steeton (av £180). Shearlings rams to 670gns – G&MA Lawn, Skipton (£251), 2-shear rams to 135gns – JA&JH Hewetson, Bank Newton (£117).
Texels: Ram Lambs to 505gns – JW Mellin (£131). Shearling rams to 650gns – JW Mellin (£222). Rams 2-shear to 500gns – EI Chamley, Brunthwaite (£348). Ram 3-shear 190gns - S Spyrou, Halifax. Aged ewe 126gns – A Steff, Burnley. Shearling ewes to 380gns – JL North (£130). Ewes to 100gns – A Steff (£79).
Blue Faced Leicesters: Ram Lambs to 900gns – AJ Mason (£224). Shearling Rams to 1500gns - AJ Mason (£256). Ram 2-shear to 420gns – PL Metcalfe, Otterburn (£204), Ram 3-shear to 420gns - PL Metcalfe (£141). Ram 4-shear to 320gns – WP&B Walker& Son, Appletreewick (£179). Aged ewes to 190gns – Ellis Bros, Addingham Moorside (£117). Shearling ewes to 500gns – KH&HL Fawcett, Barden (£138), Gimmer lambs to 180gns - KH&HL Fawcett (£117).
Beltex: Ram lamb 220gns. Shearling rams to 700gns - TC Whiteford, Brampton (£355). Shearling ewe £165. Ewe lambs to 170gns (£116).
Charollais: Ram lambs to 250gns (£171). Shearling rams to 500gns – CW Marwood (£232).
Zwartbles: Ram lamb 95gns. Shearling ram 225gns - JD& V Towers. Shearling ewe – 110gns.
click on images to enlarge

Beverley Fort with the Suffolk reserve champion

Shepherd Jeff Aitken with John Mellin's Skipton Texel champion

Stephen Walker with his Skipton Blue Faced Leicester champion

William Beckwith with his Skipton Beltex champion

John Stott with his Skipton Charollais title winner

Robert Towers with his daughter Josie's Skipton Zwartbles champion

Year's best price at Skipton Lleyn Sheep show


Regional chairman supreme at Skipton Charollais sheep fixture


Peter Woof top dog at Skipton Texel Sale