Year's best price at Skipton Lleyn Sheep show
03/10/06
The highest price of the year - at £212 per head - was paid for a pen of five shearling ewes at the annual show and sale of pedigree Lleyn sheep at Craven Cattle Marts' Skipton Auction Mart. (Thus, Sept 28)
David Alexander with his reserve champion Lleyn shearlings, joined by judge Mary Nettleton.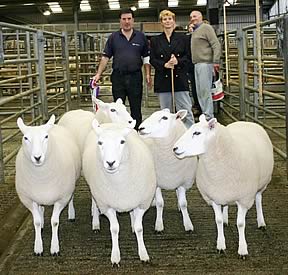 Also reserve champions, they were among a strong contingent from Scotland presented by Ayrshire farmer David Alexander, of Millside Farm, Galston. The buyer was Janice Broughton, of Melton Constable, Norfolk, who is building up her Lleyns holding and also purchased David's second prize pen of ewe lambs at £112 a head.
Held under the auspices of the Lleyn Sheep Society and the final society sale of the year, the show champion was a home-bred shearling ram from JA & R Geldard, of Low Foulshaw Farm, Gilpin Bridge, Cumbria.
John Geldard is chairman of the Lleyn Sheep Society and the victor, exhibited by his son Charles, realised £735 when sold to Welsh breeder AW Hughes, of Garndolbenmaen.
The day's top price of £924 fell to a shearling ram from Jim Goldie, of Townfoot, Mouswald, Dumfries, bought by John Mares & Son, of Darwen, Lancs. Following up his championship-winning success in 2005, Jim also sent out the first prize pen of ewe lambs at this year's renewal.
Welsh breeders DN Bennett & Son, of Tyncoed, Pontrobert, had a shearling ram sell at £819 to Denton Park Estates, Ilkley.
Show judge Mary Nettleton, of North Dalton, Driffield, who has now retired after breeding and showing Lleyns for almost a quarter of a century, said: "The quality of the sheep on show was excellent. The breed is improving all the time."
Her comments were echoed by John Geldard, who said: "The standard of sheep is as good as it has ever been and it was the best-ever show of rams we have seen at Skipton – it is pleasing to see things improving year on year."
"A lot more people are waking up to the fact that CAP Reform is here to stay. The cost of production is very important, as is breeding the type of commodity that the market wants - namely a good quality lamb produced economically. Lleyns fit both these criteria."
Averages and chief prices:
Gimmer lambs to £112 (av £49.55), DCS Alexander, Galston, £112, £80, JK Goldie, Mouswald, £76, £69 twice. Ewes to £81 (av £68.76), H&M Dugdale & Son, Stackhouse £81, AW Davies, Morfa Nefyn £76, Bishop Burton College £75, &74, £73. Shearlings to £121 (av £85.94), DCS Alexander £212, £169, £130, DN Bennet & Son, Pontrobert £145, SJ Kavanagh, Eldwick £116.
Rams to £399 (av £219.19), DCS Alexander and AG Morton, Kirkland, £399, M Shields, Timble £294, J Arnold, Hawkshead £178.50, WJ&DJ Williams, Nefyn £168. Shearling rams to £924 (av £286), JK Goldie £924, DN Bennett & Son £819, JA&R Geldard, Gilpin Bridge £735, H Goldie, Mouswald £588, £546.

Regional chairman supreme at Skipton Charollais sheep fixture


Peter Woof top dog at Skipton Texel Sale


Record Texel Sale Price at Carlisle