Record Texel Sale Price at Carlisle
02/09/06
A new centre record for Texel ram lambs was set when the first lamb to enter the sale ring sold for 110,000gns. Consigned by Alan Walker of Hexham, Newhill Major entered the ring and a hush came over the packed audience.
Newhill Major - 110,000 guineas.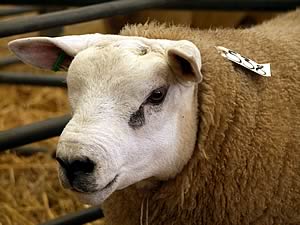 The bidding started and soon picked up momentum as various parties tried to secure this lamb. This greatly admired ram, a February born ARR/ARR son of Ettrick Jackpot and out of Broomknowes Inspiration sired mother, was finally sold to Northern Ireland breeder Malcolm Reid of Co.Tyrone.

Two ram lambs followed at 12,000gns, the first shown by Dumfriesshire breeder Tommy MacTaggart. Rascarrel Masterpiece, a group one February born son of Douganhill King, he was knocked down to joint buyers JB Renwick & Son of Legars Farm, Kelso and Firm of RF Forsyth, Baltier, Newton Stewart.

The second lamb to reach 12,000gns was consigned by Gordon Gray of Selkirk. Ettrick McCoist, a son of Lyonshall Lucky Strike, was successfully purchased jointly by KA & R Campbell of Drimsynie Estates, Argyll and K & M Jamieson of Woodhead, Annan.

Averages
5 Aged Rams £756.00 (plus £295.75)
249 Shearling Rams £561.10 (plus £122.57)
325 Lamb Rams £901.98 (plus £1.82)
141 Shearling Gimmers £280.78 (minus £82.26)

Good Trade For Quality Beltex Sheep at Carlisle


Bluetongue virus in the Netherlands identified as serotype 8 by IAH


Foxes Outfox Mules Competition to Land Skipton Double