McCormick C-Max utility tractor line-up grows
02/10/06
The popular appeal of McCormick's three-model C-Max range of light utility tractors introduced a year ago has led to the addition of a fourth model to the range - the C95 Max.
McCormick C95 Max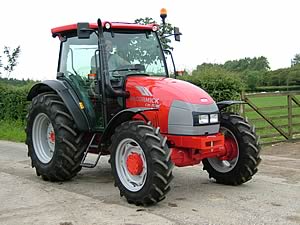 With its four-cylinder Perkins engine developing 92hp, the McCormick C95 Max becomes the most powerful model in the C-Max range, which currently comprises tractors with outputs of 58hp, 68hp and 82hp.
In terms of size, weight, power and equipment, the C-Max range slots neatly between the smaller McCormick F Series tractors – comprising seven models from 58hp to 99hp – and the full-size agricultural type McCormick CX XtraShift models, which go from 73hp to 102hp.
Despite the 'utility' tag, the McCormick C95 Max is well equipped for a tractor of its type. Four-wheel drive, oil-immersed front axle brakes and swivelling front mudguards are standard and the four-post cab with fully glazed doors filling each side provides unrivalled all-round visibility.
"This full-size but lightweight tractor is ideal for a livestock farm's routine tasks – from loader and trailer work to mowing and feeding-out, but it will also have a role on vegetable farms and as a light-duty tractor on arable units," says Paul Wade, McCormick product specialist. "It has all the essential equipment and features in a down-to-earth, competitively priced package."
The C95 Max is powered by a 4.4-litre Perkins 1100 series engine developing 92hp. It drives through a transmission with 24 forward and 12 reverse speeds, 40kph gearing and forward-reverse synchro shuttle operated by a lever positioned alongside the steering wheel. Alternatively, buyers can opt for a lower-spec 12x12, 30kph gearbox.
"Four-wheel drive is standard and when conditions become especially difficult, the positive locking front and rear differentials ensure maximum grip," notes Paul Wade. "In addition, there is the security of true four-wheel braking provided by oil-immersed disc brakes built into the front axle."
At 3700kg, the McCormick C95 Max has sufficient linkage lift capacity to handle most implements relevant to its power output. It also has a generous hydraulics specification using two pumps – one delivers up to 52-litres/minute to operate the linkage and supply up to two remote valves, while the second pump, of 30-litres/min output, supplies the steering, diff locks and four-wheel drive clutches.
Retail prices start at £23,569, which includes air conditioning, an air suspension seat, swivelling front mudguards, a radio and rotating beacon. An added attraction is a zero interest finance package of two plus 22 monthly payments on 45% of the list price from McCormick Financial Services.

Finding good used McCormick tractors made easier


McCormick celebrates 60 years with Diamond Edition Tractors


Lift more, higher with McCormick's LiftMaster loaders