McCormick celebrates 60 years with Diamond Edition Tractors
29/07/06
McCormick has unveiled a limited run of Diamond Edition commemorative tractors to celebrate 60 years of production at its Doncaster home in South Yorkshire, England.
McCormick's CX105 (left) and MTX150 Diamond Edition tractors celebrate 60 years of production at the company's Doncaster home. In addition to the distinctive paint scheme, the tractors have an enhanced specification that includes air conditioning, a Radio/CD/MP3 player and driver's equipment kit.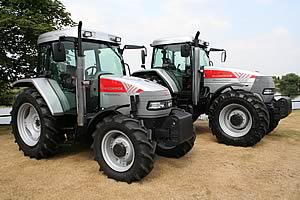 Just 60 examples each of the 102hp CX105 and 152hp MTX150 models will be available in the UK to the one-off specification, which includes a special silver and dark grey paint scheme, a chromium plated exhaust heat shield and silver-highlighted steering wheel in addition to an enhanced package of standard equipment.
"Production of agricultural equipment at our Wheatley Hall factory in Doncaster started in 1946, once it was no longer needed for the war effort," notes Simeone Morra, McCormick's international sales director. "At first, it produced agricultural implements such as mowers, balers, ploughs and cultivators to help farmers continue the magnificent efforts they made to increase food production during the war. Three years later, the factory started assembling McCormick-International tractors."
Today's McCormick business was created in 2001 when the ARGO industrial group acquired the factory and rights to continue making its tractors – the CX, MC and MTX. Since then, the high-spec 160hp to 200hp XTX and high-horsepower 230hp to 280hp ZTX lines have been added to Doncaster's product portfolio.
"We're very proud of the McCormick heritage and the Doncaster factory's historical role in the agricultural engineering industry, and felt this was an anniversary that should be marked in some way," adds Mr Morra. "Making available to UK farmers just 60 examples each of the CX and MTX Diamond Edition tractors is an appropriate number that also guarantees a certain rarity value."
The choice of models reflects the factory's best-selling tractors in the UK: the 102hp CX105 XtraShift is McCormick's most popular four-cylinder machine, while the 152hp MTX150 BetaPower is its best-selling six-cylinder tractor.
Diamond Edition versions are turned out in an eye-catching livery that replaces the familiar red plus silver detailing with metallic silver for the bodywork over dark grey engine and transmission castings.
The wheels are also silver, the offset exhaust pipe is enclosed by a chromium-plated heat shield and specially-designed bonnet and roof graphics add to the distinctive exterior appearance.
In the cab, lucky owners and drivers of the Diamond Edition tractors will find air conditioning fitted as standard, a radio/CD player with MP3 capability and built-in Apple iPod adaptor. There is also a distinctive steering wheel in black with silver spokes and a fully upholstered passenger seat in place of the standard plain version.
A driver's kit supplied with each tractor includes a McCormick fleece and overalls, cap and key-ring, together with a numbered commemorative certificate proving the authenticity and provenance of the Diamond Edition tractor – evidence that could be of particular value in years to come.
The tractors are priced at £37,522 for the CX105 Diamond Edition and £58,059 for the MTX150 Diamond Edition. Both are available with a special purchase plan provided by McCormick Finance of 4+44 monthly payments at zero percent interest on 45% of the list price.
"Anyone buying a Diamond Edition tractor is not just acquiring a highly capable and well-equipped power unit," says Simeone Morra. "They are also buying a piece of history."

Lift more, higher with McCormick's LiftMaster loaders


LandTecnics represents McCormick in Kent


Elveden Estate runs with McCormick