Lift more, higher with McCormick's LiftMaster loaders
19/07/06
The introduction of a Series 2 range of McCormick LiftMaster hydraulic front loaders gives farmers a bigger choice of build specifications to suit more applications and models within the company's tractor range.
McCormick LiftMaster I-30 and T-30 loaders.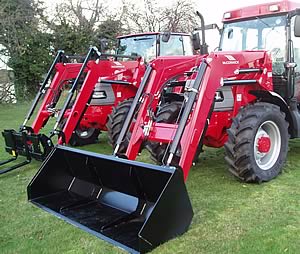 Six loaders replace the two offered previously to cater for tractors from the McCormick F Series fruit and horticultural models to the six-cylinder engined McCormick MC Power6 and MTX tractors.
"Front-end loaders are becoming more popular again as farms operating with fewer staff need the versatility of a tractor that can also work as a materials handling machine," points out Paul Wade, McCormick product specialist. "Also, they are being used on bigger, more powerful tractors – which is why we've introduced the LiftMaster T-40 and T-50 loaders for our six-cylinder models."
Apart from performance improvements over previous LiftMaster loaders, the newcomers have an easier-to-use latching system, bigger crowd and dump angles for more efficient handling of loose materials and hydraulic self-levelling for the first time.
The entry-level LiftMaster I-10 loader, priced at £4433, is designed for the compact but powerful 60hp to 100hp McCormick F Series fruit and horticultural tractors. Full height lift capacity to 3.2m is 900kg, with a maximum lift of 1000kg from ground level.
The LiftMaster I-20 caters for the C-Max utility tractors added to the McCormick range last summer. These three 58hp to 82hp models are designed mainly for livestock farms wanting an economical 'no frills' tractor and a loader to go with it.
With a rated lift capacity of 1300kg to a height of 3.8m and maximum lift at ground level of 1400kg, the LiftMaster I-20 is an ideal partner for the C-Max, and reasonably priced at £4488. Parallel linkage keeps the attachment level to minimise risk of spillage or loads becoming dislodged and buyers can add Boom Ride accumulator suspension for added load security on-the-move.
McCormick's best-selling 73hp to 102hp CX and four-cylinder MC tractors get a choice of two loader models. The LiftMaster I-30 has a lift capacity of 1500kg (1600kg max) to a generous height of 3.87m and can be had with traditional parallel linkage at £4560 or with optional hydraulic self-levelling at £4714.
The LiftMaster T-30 for these tractors is a heavier duty loader with a number of performance advantages, including more lift capacity to the same height – 1800kg (1900kg max) to 3.87m – and greater bucket tear-out force. In other words, the implement has more muscle for such jobs as tearing compacted manure from cattle sheds.
"The hydraulic levelling, which is standard in the £5646 retail price, uses slave cylinders above the double-acting lift rams to alter the position of the bucket or fork as the booms are raised and lowered," explains Paul Wade. "This gives a true parallel lift action and simplifies the boom structure for improved visibility over the loader."
The range topping LiftMaster T-40 and T-50 models are built to cope with the power and weight of McCormick's high-performance mid-range tractors – the 118hp four-cylinder turbo MC115, the 120hp and 136hp six-cylinder MC Power6 tractors and the 115hp to 182hp MTX models.
"In fact, these loaders are designed to work with tractors up to 250hp, so they are well within their capabilities on these models," notes Paul Wade.
Like the LiftMaster T-30, the big newcomers come as standard with double-acting implement and lift cylinders, hydraulic self-levelling, Boom Ride suspension and a single quick connector for hydraulic hoses, plus an additional valve for attachments like a shear grab or push-off buckrake.
Impressive performance figures include a lift capacity of 2300kg and the ability to ease a 2600kg load from the ground. The T-40 goes to 4.1m while the T-50 has a little more lift at 4.4m. They are priced £5904 and £5985.
McCormick LiftMaster Series 2 tractor loaders
I-10

I-20

I-30

T30

T-40

T-50

McCormick tractor

F Series

C-Max

CX / MC

CX / MC

MC

MTX

60-100hp

58-82hp

73-102hp

73-102hp

118-136hp

118-182hp

Lift to full height

900kg

1300kg

1500kg

1800kg

2300kg

2300kg

Maximum lift

1000kg

1400kg

1600kg

1900kg

2600kg

2600kg

Lift height

3.2m

3.8m

3.87m

3.87m

4.1m

4.4m

Bucket tearout

1500kgf

1500kgf

1500kgf

2000kgf

2000kgf

2000kgf

Bucket crowd

45deg

45deg

45deg

45deg

45deg

45deg

Bucket tip

55deg

55deg

55deg

55deg

55deg

55deg

Self-levelling

mechanical

mechanical

mechanical or hydraulic

hydraulic

hydraulic

hydraulic

Prices from

£4,433

£4,488

£4,560 / £4,714

£5,646

£5,904

£5,985

Lift capacities shown are with pallet forks and a load centre 600mm from the implement face

LandTecnics represents McCormick in Kent


Elveden Estate runs with McCormick


Hawk Hire runs McCormick tractor fleet