Duke of Kent to honour JCB with Queen's Award
29/09/06
HRH The Duke of Kent is to honour JCB by presenting the company with a Queen's Award marking huge growth in overseas sales.
JCB DIESELMAX streamliner set a new
diesel land speed record of 350.092mph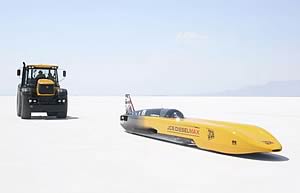 The Duke will visit JCB Earthmovers in Cheadle on October 23rd - the 61st anniversary of the founding of JCB and the birthday of Chairman Sir Anthony Bamford. JCB Earthmovers received the Queen's Award in the International Trade category – an acknowledgement of the substantial growth in overseas sales in new and existing markets.
During his visit The Duke will formally present the Award, meet employees and, during a factory tour, be given an insight into JCB's manufacturing processes. He will also get a chance to see the JCB DIESELMAX streamliner which will be on show at the factory just weeks after it set a new diesel land speed record by reaching 350.092mph at the world-famous Bonneville Salt Flats in Utah, USA.
JCB Managing Director and CEO John Patterson said: "We are delighted that HRH The Duke of Kent will be presenting the Queen's Award to JCB Earthmovers. It will be a very special day for the company and all employees who have contributed to this success."
JCB Earthmovers manufactures a range of 28 wheeled loading shovels and three articulated dump trucks. Exports of the products increased by 76 per cent between 2003 and 2005, with North America being the biggest single market.
The JCB Group has received a total of 18 Queen's Awards – the first being in 1969 when the company received a Queen's Award to Industry for Export Achievement.

JCB's Birthday Celebrations Crowned By Royal Visit


European Court's 'Unfair' Fine For JCB


Versatile Role For JCB Demolition Spec Excavator


JCB Celebrates Double Queen's Awards Honour