European Court's "Unfair" Fine For JCB
21/09/06
JCB today expressed "extreme disappointment" after a court ignored more than 20 years of bureaucratic errors in approving JCB's distribution agreements by the European Commission, and upheld a fine against the company for competition infringements in a period up to 1996. JCB believes the fine of €30.864 million to be totally unjustified.
JCB 8250 Fastrac Tractor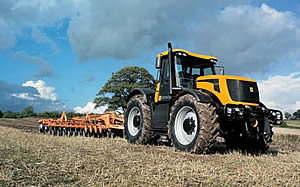 In 1973, following the UK's accession to the Common Market, JCB was one of the first British companies to comply with European competition law and apply for exemption of all of its distribution agreements. JCB amended those agreements on the advice of the Commission and was led by the Commission to believe that they were in order.
However, 27 years later in 2000, the Commission issued a decision rejecting JCB's application for exemption, even though JCB had twice since, in 1980 and 1995, re-notified it of the agreements. As a result the company was fined €39.614million for competition infringements for a period up to 1996.
JCB appealed against the judgement and in 2004 the European Court of First Instance upheld JCB's appeal on a number of counts and reduced the €39.614million fine by 25 per cent to €30million.
JCB launched a subsequent appeal to the European Court of Justice to have all of the charges quashed, an appeal which has now been dismissed.
The Court has agreed with JCB that this 27 year delay by the Commission is "regrettable" and breaches the Commission's obligation under European law but decided that a 27 year delay did not infringe JCB's fundamental rights, a decision with which JCB strongly disagrees.
At no time did the Commission identify the economic impact of the stated infringements in setting the fine which is on a vastly inflated scale compared with those imposed on certain car manufacturers.
John Patterson, JCB Managing Director and CEO, said: "We are very frustrated indeed that, after six years of pursuing this action in the courts, the European Court of Justice has ignored the failings of the Commission and found against us. The Commission is not giving European industry the efficient and effective legal framework it needs in order to compete globally."

Versatile Role For JCB Demolition Spec Excavator


Wraps Come Off JCB's New Range Of Compact Tractors At Saltex


JCB Celebrates Double Queen's Awards Honour