Versatile Role for JCB Demolition Spec Excavator
26/07/06
A JCB excavator designed for arduous demolition jobs is helping a groundworks contractor tackle a wide variety of jobs from major drainage works to large site clearance projects.
JCB JS220XD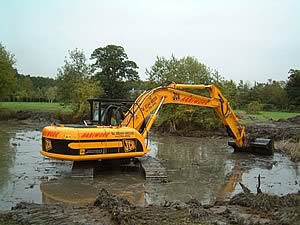 The 22.1-tonne JCB JS220XD offers the extra performance and durability required by the demolition sector – qualities Agriwork needs to complete a range of demanding tasks.
Established in 1988, Agriwork operates in the Ascot area and, its core business includes heavy-duty site clearance, land drainage and dredging. The JS220XD works alongside a JCB 8080 midi excavator, 803 mini excavator and a Fastrac 185 from JCB's Landpower range on Agriwork's diverse business.
The company says the machine has performed well on many sites in the region including ground clearance for a large private car park at Heathrow, drainage works on the Reading Festival site, and many other large land clearance and drainage jobs.
The project pictured is the dredging of a pond at Winkfield near Ascot on behalf of a local housing trust. Due to the width of the pond, the machine was positioned in the middle of the water enabling it to remove all reeds and sludge from the bed.
Owner John Edwards said: "We brought the JS220XD in to replace a previous JS160 model. We have been delighted with its performance, giving us even more power and even greater versatility.
"The demolition spec makes it incredibly durable, which is crucial for some of the jobs we ask of our machines. The high breakout forces and hydraulic flow make the excavator superb when powering attachments. Extra power in the bucket is crucial for our typical projects such as the removal of tree roots and the use of large grabs to handle heavy objects.
"The service we receive from Greenshields JCB is also first class – the engineers they send out to us really know their stuff."
The JS220XD specification is actually designed for the demolition industry with the added power, speed and an enhanced operator environment demanded by the arduous conditions found on site.
Featuring a heavy-duty mainframe, undercovers, side buffers, turret and track motor guards, extra duty dipper and linkages and a FOPS cab guard, it is well equipped for durability in the toughest applications. It also boasts a cyclonic engine pre-filter for dusty conditions.

Wraps Come Off JCB's New Range Of Compact Tractors At Saltex


JCB Celebrates Double Queen's Awards Honour


McCormack Demolition Takes Delivery Of First UK JCB JS330 HRD