Wraps Come Off JCB's New Range Of Compact Tractors At Saltex
20/07/06
JCB Groundcare is set to unveil a range of compact tractors at Saltex 2006 – the product at the heart of all groundcare operations.
JCB 335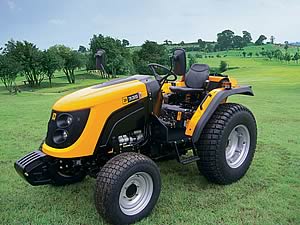 The six new tractors will be ideal for use by grounds maintenance contractors, landscapers and green-keepers around the golf course, parks, sports and amenity grounds, smallholdings and equestrian centres.
Jo Bamford, Director JCB Groundcare, said: "The addition of six new compact tractors to the JCB Groundcare range is an exciting development as these machines are central to all groundsmen's needs and will obviously strengthen our line up considerably. Compact tractors are an essential part of any groundcare product range and the JCB line-up will be available in the UK and also overseas where the compact tractor market continues to grow."
The new compact tractor models – which will have the sleek and stylish appearance epitomised by JCB – include the JCB 323, the JCB 327, JCB 331 and JCB 335, which are 23, 27, 31 and 35 horsepower machines respectively. All have hydrostatic transmission and category one three point linkages.
The two larger models, the JCB 354 and JCB 359 compact tractors are 54 and 59hp machines respectively.The 354 has a mechanical transmission and a Category 2 three point linkage. The JCB 359 has power shift transmission and also has a Category 2 three point linkage. Both the 354 & 359 come with air conditioned cabs as standard. Cabs are optional on smaller models. At Saltex, the JCB 323, JCB 335 and JCB 354 will be on show.
Compact tractors are typically used for grass cutting – with a choice of mid-mounted or rear trailed decks. However, with numerous attachments available they prove real 'workhorses', adapting to many applications. With this in mind JCB has designed highly robust machines, built to perform in the most demanding conditions. All models come with mid and rear hydraulics, auto headland management and cruise control, as standard.
In addition to the compact tractors, three further new machines – a micro excavator, a 4x4 compact backhoe loader and a new diesel powered zero turn mower - all make their Saltex debuts.
The JCB 8008 - JCB's smallest-ever machine and a downsized micro excavator, ideal for working on confined garden and landscaping projects – is already making a big impact on the market. Weighing in at 800kg, it is perfect for working on delicate ground conditions. It is ideal for landscapers and small plant and tool hire businesses because it offers the performance customers demand from a micro excavator despite such compact dimensions. Its size also means the JCB 8008 is excellent for working in an around buildings.
With the launch of its compact model, JCB continues to develop the backhoe loader market through design innovation. The JCB 4x4 Mini CX is a four-wheel drive variant of its smallest ever backhoe and will build on the success of the Mini CX with improved performance in the difficult ground conditions typically found in landscaping applications.
Aimed at the commercial market and estates, the JCB ZT20D Zero Turn Mower has the benefit of being powered by a 18hp diesel engine, giving multi-fleet customers the ability to use a single and safer fuel. The JCB mower has an extremely fast travel speed of 13mph making it the most productive type of grass cutting machinery – proven to be between 30 per cent and 50 per cent faster than alternative equipment.
The Saltex stand will feature two variants of the ZT20D– one with a 48" cutting deck and one with the 52" side discharge/collect feature. Completing JCB Groundcare's zero turn mower offering, visitors will have the first chance to see a concept walk behind model scheduled for future introduction into the range.
The new additions will be joined on the stand by proven performers from the JCB Groundcare line-up including the 6x4 Groundhog utility vehicle – shown with and without cab, JCB's class leading 1.5 tonne mini excavators and a range of hand tools and site support products.

JCB Celebrates Double Queen's Awards Honour


McCormack Demolition Takes Delivery Of First UK JCB JS330 HRD


Royal Recognition For JCB's £80m Investment