04/09/06

The latest in precision calf rearing will be launched at the Dairy Event by Volac International with the Vario from Förster Technik.

The Vario from Förster Technik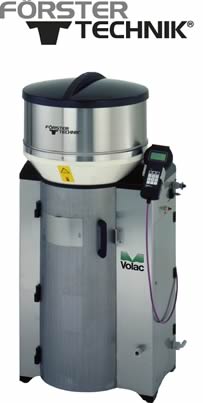 The Vario, described as feeding technology at its best, not only automatically mixes and dispenses either milk replacer or whole milk for up to 80 calves, but also offers innovative technology to enhance calf feeding and management and bring flexibility to rearing objectives.

Electronic weigh scales, concentrate feeder, additive doser and automatic measuring systems for both milk and water temperature are included among the Vario's additional advanced features. Furthermore, control of the feeder can be carried out through connection to a PC or a wireless PDA allowing feeding information to be gained away from the farm. Four different feeding curves are available and action lists are created automatically on a daily basis highlighting abnormal feeding behaviour.

"The Vario reflects the culmination of more than 35 years of research and experience," says Volac International's Will Sinclair. "While it delivers all the benefits of a computerised calf feeding system of labour saving combined with a precisely controlled feeding regime to exploit growth potential, the Vario also offers an optional range of items that can be introduced as and when required to enable the system to evolve with the dairy enterprise."

Farmers will have the opportunity to see the Vario at this years Dairy Event, Stand No 238, Hall 2 as well as enter a competition to win £5,000 worth of computerised calf feeding equipment.


Volac Urban U30 computerised calf feeding system


High Volume Diet Feeders Extend Kuhn's Euromix Range


Volac International secures British Denkavit's assets