New Holland Powers Ahead
07/09/06
Exciting additions to New Holland's line-up of specialist tractors shows the manufacturer's ability to recognise and exceed the demands of groundcare professionals.
New Holland Series TND-A and TNS-A tractors are members of the world renowned and award winning TN tractor family.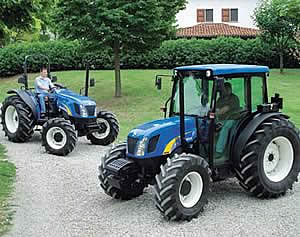 New Holland is adding powerful 4-cylinder models to its TND-A and TNS-A line-ups of utility tractors. The introduction of the 82hp TN85D-A and TN85S-A models, and the 90hp TN95D-A, means that the successful TN-A Series now incorporates four models from 59hp-90hp, covering all requirements. The 4.5-litre, Tier 2 engines give more power, higher torque and enhanced performance for high work-rate professionals. They also benefit from extended 600-hour service intervals.
To accommodate the larger power unit, the three new tractors feature a longer bonnet and an A-pillar exhaust to provide an unimpeded view forwards.
The tractors can be specified with New Holland's 'Blue Cab' for optimum user comfort. Its pressurised cab sealing system ensures that only air that has been passed through the anti-pollen and air recirculation filters enters the cabin for a clean, safe working environment. The Blue Cab also provides air conditioning and can be specified with carbon filters for those spraying chemicals.
A wide range of transmission options are available for these new TN-A models, including creeper transmissions. A high flow rate MegaFlow hydraulic system is standard with the Power shuttle transmission, and two, three or ground speed PTOs can be specified. A front hydraulic lift with PTO system can be fitted, to the TN85D-A and TN95D-A enabling these workhorses to operate a wide variety of implements.
As part of the TNS-A Series, the TN85S-A features New Holland's innovative SuperSteer™ front axle and automatic 4-wheel drive management. SuperSteer™ provides an unrivalled 76° turning angle and a turn radius of just 3.2m. The automatic traction management system disengages power to the front axle during tight turns and low draft applications, and then re-engaging as conditions dictate. A manual override allows full-time 2-wheel or 4-wheel drive to be engaged by the operator.
The traction management system increases work rates by up to 20%, and enhances stability and control during turning. As well as reducing fuel consumption, tyre wear and turf damage, it is of obvious benefit to landscape contractors and sport turf professionals. The TNS-A, as with the rest of the range, is available with low ground pressure Goodyear Soft-Trac turf tyres to reduce compaction and wheel marks in wet conditions.

Purpose-built premises for New Holland dealer Pecks


New Holland leads the biodiesel revolution


New Holland runs a TM190 Tractor for 500 consecutive hours


Higher productivity with New Holland round balers