New Holland leads the biodiesel revolution
17/05/06
Biodiesel has been widely recognised as the fuel of the future, offering a renewable source of energy and a lower environmental impact. New Holland is the first agricultural equipment brand to embrace fully the potential of biodiesel, announcing today that it supports the use of biodiesel blends up to 20% (B20) throughout Europe on all current production equipment with CNH engines.
"As increasingly tight emissions legislation is introduced, we want to make sure that we are in a position to offer our customers engines they can confidently run on biodiesel," stated Gianmaria Olivetti, Engineering Executive Director of Fiat PowerTrain, which develops and builds CNH engines. "We are running an intensive testing programme to evaluate the performance and reliability of all our engines with higher blends of biodiesel, and in the coming months we will be in a position to support the use of biodiesel blends greater than 20% on our engines with the purchase of an Extended Support Package."
Biodiesel is a renewable fuel produced from crops such as rape seed and sunflower seed. It can be used as either B100, or blended with conventional diesel to produce a biodiesel blend. These fuels must meet specified industry standards for fuel quality (EN14214) to ensure optimum performance and durability of the engine.
"We recognised the importance of biodiesel as an alternative source of energy and the opportunities that it brings to our customers. Biodiesel offers significant benefits in terms of lower emissions, greater energy independence and a positive impact on agriculture," explains Christian Gonzalez, New Holland Europe Marketing Manager.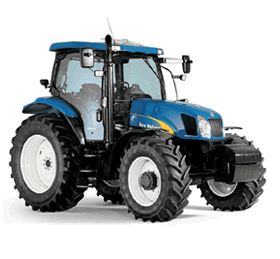 The European Union is the world's largest producer of biodiesel, both in terms of volume and capability, and its production level is still growing fast. Recognising biodiesel as an important element to meet its emission reduction targets, tax incentives have been introduced in several Member States to encourage the use of biodiesel. This makes biodiesel a more cost-effective fuel than conventional diesel for New Holland's customers in many countries.
Under the current Common Agricultural Policy, crops for the production of biodiesel may be grown on set-aside land which, together with the increasing demand for these crops, opens the door to new opportunities for farmers.
"As far as using B20 biodiesel blends in agricultural equipment is concerned, its hygroscopic nature means that it tends to absorb moisture, so that New Holland strongly recommend the use of approved fuels and to comply with strict handling, storage and maintenance requirements to maintain the integrity of the fuel," explains Christian Gonzalez.
The necessary technical advice and specific maintenance programmes are available through New Holland's expert dealer network, to ensure the biodiesel is handled properly and critical areas such as and fuel hoses and injectors receive further inspection so customers can confidently work with EN14214-standard, B20 biodiesel blends without compromising the machine's performance or durability.
"Biodiesel is the future," says Christian Gonzalez. "As the availability of fossil fuels becomes a greater problem, we need to look at alternatives. But they must also be cleaner, environmentally sensitive alternatives. New Holland is renowned for its innovation and forward-thinking approach, and we are committed to bringing our customers the latest technology and the benefits it brings."

New Holland runs a TM190 Tractor for 500 consecutive hours


Higher productivity with New Holland round balers


New Holland Apprentice Achieves Ploughing Success


Crowds flock to spectacular British National Ploughing Championships