11/08/06

NFU Scotland has welcomed the announcement today by Ross Finnie, Minister for Environment and Rural Development, that he fully supports initiatives for schools to source food from local suppliers.

Ross Finnie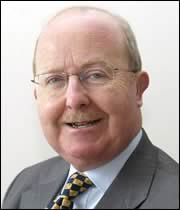 The results of a pilot project in East Ayrshire, in which schools increased the amount of food brought from local suppliers, have been published by the Scottish Executive.
Both parents and children are in favour of locally produced food being served in primary schools and demand for such produce continues to increase.
77 per cent of parents interviewed said that they felt that spending money on local, fresh food for school meals was a good use of public money and 67 per cent of children said that the meals tasted better than before the local sourcing initiative began.
Jimmy Young, NFU Scotland Ayrshire Regional Board Chairman, said:
"Crucially, this pilot projects seems to have benefited not only children but also food producers. Farmers are extremely keen to find new markets for their quality produce and the project has shown that they are more than capable of supplying the school meals market.
"The development of local markets for local food is also in the wider public interest. It prevents extra 'food miles' – transporting food from distant places generates the greenhouse gases that contribute to global warming. It generates local jobs in processing and preparing food and also brings other people closer to farming.
"We have been saying for decades that fresh, local food is far tastier and healthier and now, out of the mouths of babes, comes the same message. Not only does local food have health benefits, but it also helps us to secure a sustainable agriculture industry, which in turn leads to sustainable rural communities.
"We very much welcome the support that this initiative has received from Ross Finnie and I sincerely hope that more councils follow the East Ayrshire example. The farming industry looks forward to working in collaboration with all concerned to make the most of these opportunities to our mutual benefit."

NFUS Hosts Hugely Successful Hill Farms Event


'Farming For Future' Project Launched At Black Isle Show


Another Successful Day for Orkney Project