21/02/06

L-R Warnelview Rocky 2 with Lousie Wilson, Evening Holsteins, and Warnelview Fraser with Christine Wilson Warnelview Holsteins, winners of the Border & Lakeland Herds Competition and UK Premier Herds Competition respectively.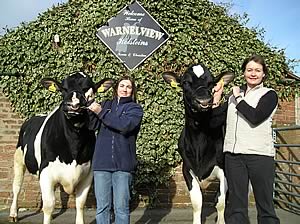 With dairy replacements at an all time high and the possibility of live calf exports just around the corner, which should result in Holstein bull calves having a value of £60-£70 again there never has been a better time to go black and white.
The 3rd Spring Holstein Bull Sale will be held on the 15th March at Borderway sale centre. This year the catalogue is brimming with quality, bulls that have been bred from families with Type, Production and Longevity. A combination that will improve your herd's performance in every department.
This years winners of the UK Premier herd, Warnelview Holsteins owned by Kevin & Christine Wilson and Border & Lakeland Herds Competition winners Evening Holsteins owned by James & Louise Wilson have a mouth watering consignment of Holstein bulls on offer. The UK premier and Border & Lakeland Herds competition prizewinning herds are consigning bulls from the renowned families of Enid, Flirt, Kitty, Roxy, Bricknell Ruby & Stilbrook Ruby sired by Igniter, Kendall, Lheros, Warnelview Status & Terrason.
The sales have 50 sires to choose from and are bred from renowned proven families. Consignors featuring are; Aliann, Almond, Annandale, Blackisle, Bowberhill, Bridgedale, Carrock, Criffelhill, Evening, Gornal, Hailstone, Holmeden, Hunday, Ingleview, Kellywell, Mosside, Netherside, Roevalley, Tallent, Whispering, Warnelview, Wolfa and Wormanby.
Its quite simple, dairy herds need improved production with high components, improved type that will improve herd health and longevity. This 3rd Spring Bull Sale has the answer for all your breeding requirements. For catalogues and more information contact H&H 01228 640924 or check out www.livestock-sales.co.uk.

Holstein breeders sale a great success


2005 Northern Expo Holstein Dairy Cattle Show


Practical solutions to get a fair deal: RABDF National Dairy Conference