06/12/05

Top Price Group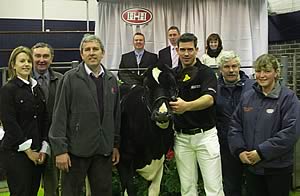 The dream is back in Holstein breeding again! An awesome catalogue combined with awesome cattle made the 19th Borderway Black & White Sale on Saturday 3rd December one sale sure to remember.
The event was a great success with an average of over £3,400 for 74 holsteins and £2,172.19 for 8 jerseys with buyers from throughout the UK.
The high seller was a maiden heifer Riverdane Silky Elegance at 32,000gns (50,000E), consigned by Riverdane and Forte Holsteins. She joins the Honeypot Syndicate of John Jordan Gloucester; Adams Brothers, Chepstow and DJ Harwood, Buckinghamshire. This is the highest price ever paid for a maiden heifer in the UK and Europe. She is a grand daughter of the Brood cow extraordinaire, Krull Broker Elegance EX96, 3rd Global Cow of the Year 2005. This cow has bred 16 All Americans and All Canadians with the first 51 of 56 daughters and granddaughters scoring VG as 2Year Olds. The dam of Silky Elegance, Budjon JK Linjet Eileen EX96 was Reserve Senior Champion Madison 2004. Eileen recently classified EX96 which completes the first and only EX96 dam and daughter combination in the breed.
The second highest price was Overside Talent Delight sold for 11,200gns to the Bremridge Farms, Crediton, Devon the property of Skeikha Noora Isa Alfkhalifa. This line of the Dellias, which originates back to the Global cow of the Year 2005, has topped many sales in the UK including the Black & White in 2003 and the Cogent Celebration Sale 2005. Sired by Talent and out of the VG89 Overside Convincer Delight, this 12month heifer old calf harbours enormous potential.
The Elegance family again featured at the top of the list for three unborn pregnancies due in February. Sired by Regancrest Dundee and out of Eileen's full sister, Budjon JK Linjet Epic EX92. Pete Sherwin, Scawfell Holsteins, Bridge Petton, Gosforth has the first choice heifer from this valuable family for 11,000gns.
At 7,000gns was Hilltara Gibson Maude, the first ever female to be sold from the All Britain Medway Supreme Maude EX97 9E, consigned by Sam McCormick, Bangor, Northern Ireland. This awesome heifer from Northern Ireland has unlimited show potential and joins the partnership of Jane Price and Denis O'Neill, Monneley Farm, Crewe.
Another star from Northern Ireland, Ballyginnif Merchant Cindy came from John Patterson, Crumlin who was also a first time consignor. This Altagen Merchant daughter sold in calf to Picston Shottle due in February. What an opportunity! This heifer's family originated from the legendary Whirlwind Holsteins, Alberta Canada owned by John Copithorne who guest auctioneered at the Black & White 2004. Partnership purchasers A Bunting & Son, Midtown Dumfries with Mr Tom Kilpatrick, Dumfries bought her for 6,000gns. "Cindy has a beautiful combination of feminity, dairy strength and unbelievable udder promise" Glyn Lucas, auctioneer said.
Painley Dunrod Iron Brandysnap PI, sired by Boss Iron, is a numerous show-winning heifer that sold for 6,000gns to Bremridge Farms, Crediton, Devon the property of Skeikha Noora Isa Alfkhalifa. A potential 5th generation of EX or VG cows, the just recently won at the Northern Dairy Expo 2005.
All the way from Eastern Germany, close to the Czech Republic was a grand daughter of the three times All Canadian Shoremar Alicia EX97 3E. This beautiful Champion calf was consigned by the partnership of Karl Rutten and Pete Kola. The dam of this calf was BKB Durham Alice EX90, with a high record of fat to 4.80% and protein of 3.50%. Successful purchasers were Smiddiehill Holsteins, Albrighton, Wolverhampton, at 6,000gns.
Amongst the Jerseys in the sale Rapid Bay UK JJ Lets Dance sired by Just Wait's maternal brother, and from the All Canadian Rapid Bay Juno Limerick EX96 5E. This beautiful show calf was 1st February calf at the All Breeds All Britain Calf Show 2005. First time consignors Rapid Jerseys UK of James Strachan & Candice Borland, parted from this heifer for 4,600gns to Designer Jerseys, Nortons Green, Radley Green, Essex.
Holmeden Montana J Silva, consigned by J Hodgson, and sired by Windy-Willow Montana Jace sold for 2,500gns to S&S Murray, Shipley Bank Farm, Wolverhampton. Bred from three generations of Excellent dams the dam yielded over 15,000kgs in her fourth lactation.
"Our" Jerseys owned by Carole Wood, Carnforth, Lancs, consigned Millcoat Twinkle 23 EX92, this year's Supreme Champion Westmorland Show 2005 and Best Udder at Dairy Event 2005. She sold for 2,350gns to GM & DJ Pye, Arklholme, Lancs.
Edward Brown of H&H was openly delighted with the success of the event. "Overall it has been a fantastic couple of days and much of the credit must go to the vendors who had committed themselves to the sale by consigning fabulous animals. Obviously there will be a few breeders whose expectations may not have been fulfilled, but even so, and in true Black & White tradition, set what reserves they had modestly and realistically. After 19 years 'what they make has to be what they are worth'. I feel sure that many of the buyers were able to invest in top quality genetics at reasonable prices, with a lot of heifers changing hands at the sort of money that vendors were well rewarded for and purchasers were able to pay.
"Of particular importance this year is that our new, younger dairy team has shown that the future of the Black & White is in good hands and I have every confidence that it will break new and exciting territory in the years to come." Edward Brown, concluded.

Dairies Must Work With Farmers To Secure Future


2005 Northern Expo Holstein Dairy Cattle Show