25/01/06
Increased UK sales - up 17% - moved McCormick into 'top four' in 2004
Market share increased from 7.0% in 2003 to 8.0% in 2004
Top-selling McCormick models Doncaster-built CX95, CX105 and MTX150
Current McCormick best-sellers in Britain are the 102hp and 90hp CX XtraShift models - a handy sized package with powershuttle and three-speed powershift transmission and spacious cabin.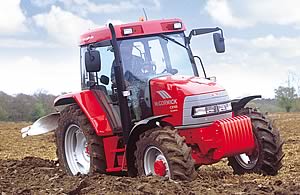 Figures released by the AEA, the trade association for UK agricultural machinery companies, show that in 2004, McCormick tractors became the fourth most popular in Britain.
Sales of the distinctive red and silver tractors increased by 17% from the previous year, which raised the company's domestic market share from 7% to 8% and moved McCormick ahead of one of its major competitors.
"We had strong indications at the time that we had moved up to fourth place but couldn't say anything until the AEA were able to publish the official figures," says Ray Spinks, marketing & product development director. "We're absolutely delighted, of course; it's a real achievement and just reward for our people at Doncaster, the field staff and our dealers for the work they've put into establishing McCormick as a major player in the tractor market."
The McCormick business was established in January 2001 - just five years ago - with a very limited product range. Since then, a comprehensive range of tractors spanning 21hp to 280hp has been developed. The most recent introduction is the 173hp to 202hp McCormick XTX line-up, the most sophisticated design yet to emerge from the Doncaster plant in South Yorkshire.
At present, the most popular McCormick tractors with British farmers are the top two models in the CX XtraShift range: the 102hp CX105 XtraShift is the best selling individual model, closely followed by the 90hp CX95 XtraShift.
"The introduction of improved engines and the new XtraShift transmission with powershuttle and three-speed powershift two years ago added to the appeal of a design that farmers already liked for its simplicity, performance and spacious cab," notes Ray Spinks.
Third best-selling McCormick is the mid-range 152hp MTX150, which finds favour with livestock and arable operators alike for its robust performance.
The XTX range, with its unique eight-speed powershift, pto power boost engines and improved cab design, is expected to strengthen McCormick's position in the higher horsepower sector, especially having won the 'Tractor of the Year 2006' title. Initial farmer response to the new model has been very positive, says Ray Spinks.
"Although we don't have the figures to prove it, I'm pretty confident that McCormick retained its 'No4' status in the UK in 2005 and, in fact, widened the gap to our nearest competitor," adds Ray Spinks. "It shows that the Doncaster-built products still have a strong and confident following among farmers for their performance and reliability."
UK tractor registrations by make - units and market share
2003
2004
John Deere
3939
26.20%
John Deere
4301
27.70%
New Holland*
3335
22.20%
New Holland*
3189
20.60%
Massey Ferguson**
2299
15.30%
Massey Ferguson**
2383
15.40%
Case-IH*
1345
8.90%
McCormick
1241
8.00%
McCormick
1060
7.00%
Case-IH*
1217
7.80%
Valtra
586
3.90%
Renault
500
3.20%
Renault
546
3.60%
Valtra
484
3.10%
Fendt**
314
2.10%
Fendt**
362
2.30%
JCB Landpower
268
1.80%
JCB Landpower
303
2.00%
Steyr*

n/a

n/a

Steyr*
10
0.10%
Others
1351
9.00%
Others
1528
9.80%
* CNH Global combined sales: 2003 - 4680 (31.1%), 2004 - 4416 (28.5%)
** AGCO combined sales: 2003 - 2613 (17.4%), 2004 - 2745 (17.7%)
Data source: AEA

Hawk Hire runs McCormick tractor fleet


McCormick appoints new dealer in Lincolnshire


McCormick commits to Smithfield - Britain's winter agricultural showcase event


McCormick appoints new manager for brand development and communications