24/01/06
Stamford Tractors & Farm Services appointed to South Lincs territory
Key service and parts staff recruited from closed Johnson Bros depot
McCormick range includes 'Tractor of the Year 2006' award winner
Paul Spence (left) has recruited a number of staff from the former Johnson Bros depot at Bourne to give Stamford Tractors a high level of McCormick product knowledge from the outset. They include parts manager Roger Brown (centre) and service manager Alan Gray (right).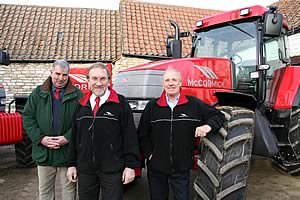 A Lincolnshire agricultural engineering firm - Stamford Tractors & Farm Services - has welcomed the opportunity to revitalise its business by taking on the franchise for one of the UK's top-four tractor manufacturers.
"Having lost our previous tractor franchise simply by being in the wrong place at the wrong time, I was undecided about how to develop my business," says Paul Spence, managing director. "Then the opportunity came along to look after McCormick users in the area and realised it was too good an opportunity to miss."
Stamford Tractors & Farm Services will operate across a larger area than before from its base at Mill Farm, Wilsthorpe near Stamford, covering a South Lincolnshire territory that extends from Oakham in the west, north to Sleaford, across to Holbeach and Wisbech to the east, and south beyond Peterborough.
This McCormick territory became free when Johnson Bros decided to close its depot at Bourne, Lincs at the end of last year and concentrate its McCormick and implement franchises at Fakenham serving farmers across north-west Norfolk.
Four support staff from Johnson's Bourne operation have secured new positions with Stamford Tractors, which gives the business considerable McCormick product knowledge and expertise from the outset.
"I'm delighted that we've been able to take on some key Johnsons staff to join our existing team and maintain continuity for the many McCormick users in the area who I hope will become our customers," says Paul Spence. "The new team here at Stamford Tractors has every intention of looking after them as well as our existing customers, with a good range of tractors and efficient parts and service back-up."
Roger Brown has been appointed parts manager to ensure the efficient dispatch of essential spares, while service manager Alan Gray has moved from Johnsons, along with service engineers Brian Drewey and Jason Ulyatt. They will work alongside existing Stamford Tractors employees Peter Thomson and Sam Young in the company's workshops.
"Johnson Bros had a very loyal following in this area; taking the decision to close the Bourne depot after 40 years must have been very difficult," comments Paul Spence. "We'll be doing our best to fill the gap and I must say I'm very encouraged by the expressions of support that we've had from local farmers."
McCormick's mid- and upper-range models are the Doncaster-manufacturer's best sellers in an area where arable crop production is the main farming activity.
"The CX XtraShift range up to 102hp makes an excellent general purpose tractor, while the 90hp to 136hp MC and MC Power6 models have more engine and hydraulics power but are only a little bigger," explains Paul Spence. "But I expect the biggest demand will be for the six-cylinder MTX and new XTX models - the XTX in particular has all the features a farm needing a 170hp to 200hp tractor could want."
Among those features is an eight-speed powershift that is unique to McCormick, 'intelligent' engine control that improves fuel economy during road transport and 'power boost' fuel injection that releases extra muscle for power-hungry pto work. The XtraSpeed transmission design and practical application of electronics technology has earned the XTX the 'Tractor of the Year 2006' title, judged by machinery specialists from 17 countries across Europe.

McCormick commits to Smithfield - Britain's winter agricultural showcase event


McCormick appoints new manager for brand development and communications


McCormick appoints new area manager for south Wales and south-west England