26/04/06
Nationwide hire of tractors supplied and supported by McCormick dealers


Fleet changed annually for low hours, latest models and specifications


Hawk's line-up comprises six-cylinder McCormicks from 130hp to 200hp
Hawk Hire - tractor line-up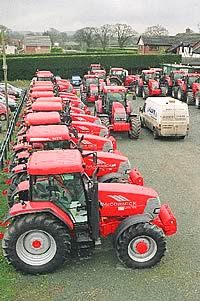 One of Britain's largest tractor and plant hire operators, Hawk Hire, is taking delivery of 140 new McCormick tractors this spring. The new machines, all with six-cylinder engines from 130hp to 200hp and built at McCormick's Doncaster assembly plant, will be hired out to farmers and contractors wanting to supplement their own tractors or needing extra power for seasonal work like silage-making or cultivations and drilling.
"We change our fleet annually so that anyone using a Hawk Hire tractor gets a low-hours example of the latest model to the latest specification," says Mike Hawkins, Hawk group chairman. "We've run an increasing number of McCormick tractors as part of the fleet in recent years but this year, with the exception of a handful of specialist tractors, the fleet will be entirely McCormick."
Hawk Hire is based at Loppington near Wem in Shropshire and operates nationwide, supplying tractors, telescopic handlers and heavy earth moving plant. Customer service is central to the business, explains tractor operations director John Smith.
"Mike and I have been involved with farming and contracting, as well as plant hire for many years, so we understand the needs of our agricultural clients," he points out. "Farmers want to hire a reliable tractor that performs well during the few days or several months they're using it; and they want to know they'll be looked after should anything go wrong."
To ensure anyone hiring a Hawk tractor has access to a local source of parts, servicing and maintenance, all the tractors are supplied through the McCormick dealer network.
"We have tractors operating everywhere, from Scotland to Cornwall, but they all get the same level of service, whether we use the local dealer or our own experienced fitters," Mr Smith emphasises. "Any breakdowns are sorted out as quickly as possible but if a repair is going to involve too much of a delay, we'll put in a replacement tractor."
The machines that Hawk supplies need to deliver good field performance and reliability while appealing to a wide range of customers. They must also retain a decent resale value. Mike Hawkins says the McCormick MC Power6 and MTX models that make up the bulk of the Hawk fleet score on all counts.
"We've had long experience of the tractors built at McCormick's Doncaster works and our customers know them and like them too," he explains. "Residual values are holding up well, which is very important to us as hire operators, and we're very impressed with the way the products and range have been developed by McCormick."
McCormick's MTX, from the 131hp MTX135 to the 204hp MTX200, make up more than two-thirds of the 2006 fleet, providing an economical source of six-cylinder power. There are also a dozen or so each of the 136hp six-cylinder MC135 Power6 model and the 198hp version of McCormick's latest tractor, the XTX.
While the MC135 Power6 provides big tractor features like four-speed powershift and demand-responsive hydraulics in a relatively compact and highly manoeuvrable package, the bigger MTX tractors have the strength of a cast frame chassis and economical performance from advanced Cummins-based engines.
The McCormick XTX tractors that Hawk Hire is operating for the first time this year provide an advanced specification for more demanding field operations. The XTX200 has full-feature electronic engine management providing a generous power boost from 198hp to 213hp for pto work, plus a unique transmission with eight powershift speeds.
Hiring such tractors for seasonal work or to meet short-term needs makes a lot of financial and management sense, says Hawk's John Smith.
"Apart from insuring the tractor and putting in fuel, there's nothing for the hirer to worry about, and there are tax advantages too," he points out. "There are no finance payments to keep up, no maintenance or warranty concerns and none of the hassle involved in selling the machine. Unless a tractor is working year-round, it makes sense to pay for the time it's used without paying for the time it is standing idle."

McCormick joins select 'top four' in UK tractor market


McCormick appoints new dealer in Lincolnshire


McCormick commits to Smithfield - Britain's winter agricultural showcase event