First Charolais semen exported to Brazil

22/11/05
Goldies Unbeatable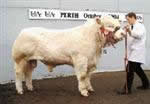 The first exportation of privately owned Charolais semen to Brazil in more than 10 years has been agreed with a total of 2,000 straws, split equally between Goldies Unbeatable and Mowbraypark Paramount, to Araucaria, one of the country's leading semen importers and distributors based in Londrina.
Goldies Unbeatable is the Perth October 2004 champion and Royal Highland 2004 junior breed and interbreed champion and was secured for 25,000gns by John Currie, Ballymena, County Antrim from the Goldie family, Jim, Kay, Bruce and Hamish, of Dumfries who continue to retain a half share of his semen rights. Unbeatable who is by the 20,000gns Perth intermediate champion, Blelack Rustic, was among the first to be conceived on the Goldie's Mouswald, Dumfries unit since restocking with 40 pedigree Charolais cows. He has put the family firmly back on the international scene; a shipment of 1,200 straws of Unbeatable were made to Australia earlier this year.
Mowbraypark Paramount, is senior herd sire in Mike and Margaret Atkinson's 40 cow Mowbraypark herd based at Kirkby Malzeard, Ripon. A Killadeas Jack son and maternal brother to the celebrated Burke trophy winner, Mowbraypark Gigi, he is within the breed's top 1% with a Beef Value of CH46. Paramount's three sons sold so far through Perth have netted 51,000gns. While this is the first consignment for export, his semen has been sold to breeders throughout the UK.
"We are very pleased that Britain is able to trade once again with Brazil, the world's biggest and most competitive semen market, using an annual six million doses," explains Richard Beale of Stanford Livestock who helped to facilitate the deal. "A delegation of Charolais breeders visited several Charolais herds earlier this year and concluded that Unbeatable and Paramount would meet their criteria: they both demonstrated length, good muscling and mobility backed by depth of pedigree breeding and Estimated Breeding Values."
He adds: "Despite the fact Britain's cattle breeds have changed over the years, Brazil continues to regard Britain as the stockyard of the world. It is very supportive of our style of cattle and stockmanship, and it trusts the accompanying paperwork."

Charolais semen exported down under

Charolais breeds quiet optimism