Charolais semen exported down under

14/06/05
Goldie's Unbeatable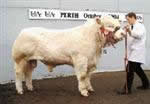 Semen from the top flight Charolais bull, Goldies Unbeatable has been exported to Australia. Twelve hundred straws from the 25,000gns Perth champion and Royal Highland junior breed and interbreed champion have been purchased by leading New South Wales Charolais breeder, Bill Dunlop.
The two year old Unbeatable who travelled direct from AI collection to Perth last October where he changed hands for the day's leading five figure price to John Currie, Ballymena, County Antrim, was bred by the Goldie family, Jim, Kay, Bruce and Hamish who continue to retain a half share of his semen rights. Unbeatable was among the first to be conceived on the Goldie's Mouswald, Dumfries unit since restocking with 40 pedigree Charolais cows and he has put the family firmly back on the international scene.
"Unbeatable was initially spotted in the Royal Highland show ring by Bill Dunlop who was seeking to introduce some muscle, size, fleshing ability and improved locomotion to the Australian Charolais herd book," Jim explains. "A herd visit followed to inspect Unbeatable's sire, dam and four full sisters, which left Bill confident that the youngster was carrying the right type of genetics for Australia where Charolais remains the leading Continental terminal sire."
BCCS David Benson commented: "This latest deal is a timely reminder that Britain remains the stockyard of the world. After a long period without any export business and with BSE now a thing of the past, we are pleased to receive an increasing number of enquiries from Charolais breeders from all five Continents who are keen to source our quality genetics."