15/11/05

David Lawton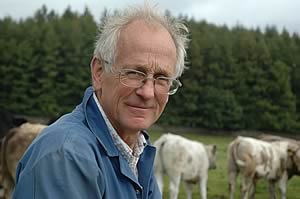 Current market prices may be beyond beef producers' control, however managing an efficient suckled herd focused on Charolais cross suckled calf production and exploiting the new regime with its environmental payments is set to help one Cumbrian unit to remain sustainable in the long term.
David Lawton is planning with quiet optimism for the next five years. As manager to one of Cumbria's largest suckler herds, he is confident that he will be able to continue to consistently deliver the goods – scores of fast growing, quality Charolais cross calves reared on a low input system to meet, what should be, a strong demand for that type of cattle.
He believes in future, that demand will reflect a reduced GB suckler herd. Furthermore, he is also relatively confident that Defra's new environmental payments, the Entry Level Scheme (ELS) and Higher Level Scheme (HLS) will make a significant contribution to the unit's future.
"We, like any beef producer, are all too aware of this year's falling prices, however it's important not to make a knee jerk reaction, but to consider the wider picture before making any major decisions," says Mr Lawton who is manager to Greystoke Castle Farms, a 2,400 acres LFA hill unit based near Penrith carrying 280 black suckler cows and a complementary flock of 2,700 ewes.
"Our suckler herd suffered a slight knock in market income earlier this year despite our 10 month old Charolais cross calves arriving in the day's top 10% of prices in Longtown. Steers averaged £525, back £24 a head on the year, while heifers averaged £380, up £14," he explains. "However we are confident that we can withstand the short term fall in the marketplace. We are budgeting this year's income for the suckler enterprise to be back £40 to £50 a head on the previous 12 months under the former regime and to leave a gross margin of approximately £470 per cow, including payments. Ultimately, the new payments we receive will be around the same because all our steers were sold without a single BSP claim, the unit has practiced an extensive policy and it has scale," he says.
Charolais crosses from the prize winning herd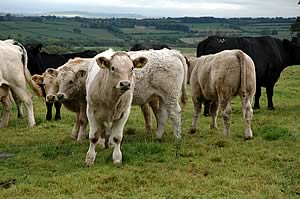 In many ways, the unit has shown all the signs of gearing up for CAP Reform for several years having implemented a low input high output strategy. "We paired our variable costs to the bone - last year they stood at £166 per cow and I really don't know how we could shave off more. We used to calve from September through to June; nowadays the system revolves around a spring calving regime from 1 April to 12 June. Half the crop of Charolais cross calves are sold as seven month olds to maintain cash flow, while the remainder are over wintered on slats in our limited accommodation on a forage based diet and offered through the same auction ring the following February.

"Further attempts to tighten up the calving pattern led us to start to AI the heifers, and we're achieving 70% conception to first service. We give the cows three cycles to get in calf, while those remaining barren are roughed through winter and artificially inseminated in May," he says. "Similarly, fixed costs have been minimised. For example, labour has been cut from 10 to four full time men to manage the suckler and sheep enterprises, including a very efficient herdsman."
Greystoke's high output is influenced by the impact of Charolais as a terminal sire over what Mr Lawton terms 'modern', Continental cross suckler cows. In fact Charolais has been tried and tested on the unit for 20 years since he was appointed to manage the farms and later as a partner in the Howard family business. Seven Charolais bulls carefully selected for their size, hind quarter muscling and conformation.
"We know from lengthy experience that Charolais leaves progeny with that unbeatable weight for age over all Continental cross calves, an essential factor in an efficient system, and they are accompanied by quality conformation. In fact the reason I'm in a position to sell Charolais cross calves at seven months is because they achieve such stature and growth and demonstrate a 50kg weight differential over all other suckled calves reared on similar systems," explains Mr Lawton who this year was awarded the Border Charolais Pfizer Suckler Herd of the Year for producing an outstanding crop of consistent quality calves.
"Whether farmers are running 10 or 100 cows, Charolais will deliver the same package. Furthermore under the new regime, finishers are finding that they are able to fully exploit their Charolais cross steers' potential by reaching target weight from 14 to 15 months and grading within the top end of specification."
Greystoke's underlying confidence is driven partly by medium to long term supply and demand for British beef. "The GB suckler herd is declining by 1.5% year on year, I believe there is a lot more shaking out to be done and I question the size of the industry within five years time," he says. "While supermarkets are currently quibbling the price between British and imported beef, transport costs are escalating. I believe it to be a very dangerous game to run down British agriculture.
"From a global perspective, environmentalists are conscious that South American beef is steadily eroding rain forests and I guess they will soon be pressing Government to encourage us to exploit our own resources. Furthermore, as China and India become increasing affluent, we could help to fulfill the demand for protein."
Mr Lawton also believes there is a change in environmentalists' attitude towards cattle in the hills. "English Nature, RSPB and other organizations are beginning to realize that cattle are an important and integral part of habitat management in that they encourage biodiversity, and that without them, the countryside would be an empty wilderness. There is also a subsequent growing awareness that cattle are a vital part of the social framework, however from our point of view, they also have to pay."
Greystoke is currently exploring all environmental payments available to literally compensate for modulation over the next five years and continue the same level income stream beyond. ELS together with HLS look promising, he says adding: "In future, I don't believe Government will walk away from farmers, they will make a determined effort to maintain cattle enterprises and environmental payments will be one solution towards achieving that goal."

Perth Charolais bulls meet a flying trade


Cumbrians feature among Border Charolais Club Pfizer suckler awards


North East man to judge Perth Charolais cattle