06/10/05

Eveline of Mosston Muir - 5200gns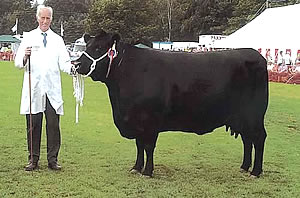 Aberdeen-Angus females sold to 5200gns at the special select sale held at Masham, Yorkshire, as part of the "Angus in the Lakes and Dales" tour.

The large ringside audience was swelled by the presence of 150 delegates from all over the UK and Ireland who were visiting Aberdeen-Angus herds in Cheshire, Cumbria, Yorkshire and Lancashire during a four-day tour organised by the PENWAC and North of England Aberdeen-Angus Clubs.

"The whole week-end was an outstanding success and brought many favourable comments from delegates on the quality of Aberdeen-Angus cattle in the herds visited," said David Evans, Tree Bridge Farm, Nunthorpe, Middlesbrough, who was joint chairman of the organising committee, along with Karl Hancock, Whitebottom Farm, Compstall, Stockport.

"The tour has put North of England Aberdeen-Angus cattle on the map and given breeders in the area an enormous fillip."

Mr Evans paid tribute to main sponsor, Dovecote Park, and the many other sponsors, whose generous support had ensured the success of the whole week-end.

The top price at the sale was paid by Adam Robson and his son, Pip, from Chathill, Northumberland, for the second female in the ring, the eight year old cow, Eveline of Mosston Muir, by Hurdcott Blair, with twin heifer calves at foot by The Moss Polman, from Tom Rennie, Mosston Muir, Guthrie, Forfar, Angus.

This outstanding cow has won a number of championships for the Mosston Muir herd over the past three years and was second in a large class at the Royal Highland Show last year. One of her calves was champion yearling heifer at Perth in February.

An embryo flush from this year's Royal Show breed and inter-breed champion, Bon Lea Elle C017, realised the joint second higher price of 3000gns to East Lothian catering butcher, John Gilmour, Macmerry, who is building up a pedigree herd at Mosstowers, Kelso, Roxburghshire.

The heifer, bred and owned by the Brooks family at Bon Lea Angus, Hornby Grange, Little Smeaton, Northallerton, Yorkshire, is a daughter of Hurdcott Estimator A018 and has a string of championship successes to her credit over the past two years, including interbreed titles at the Royal, Great Yorkshire and Border Union. She was female champion at Perth in February but was withdrawn unsold at 5000gns.

The other 3000gns bid was for the six month old heifer calf, Hardlawbank Frances E299, by Ankonian Elixior 100, from Robert Dick, Hardlawbank, Holywood, Dumfries. The buyer was breed president, John Elliot, for his Rawburn herd at Roxburgh Mains, Kelso. Mr Elliot had the pick of two sisters by Rawburn
Transformer from the same embryo flush.

The second heifer by Rawburn Transformer realised 2000gns to Mr Gilmour whose other purchases included two yearling daughters of Hurdcott Estimator A018, Bon Lea Petal D030 and Bon Lea Evesta D024, at 1900gns and 1500gns from Bon Lea Angus, and a pair of two year old heifers, Barwise Jeorgie Erica C116, by Mosston Muir Proud George A018, and Barwise Evelyn C120, by Lord Forteviot X42 of Tullyfergus, at 1450gns and 1600gns from Mrs Carolyn Fletcher, Barwise Hall, Appleby-in-Westmorland, Cumbria.

Fourth highest price of the day was 2700gns paid by David Evans for the two year old heifer, Jerusalem Pride D088, by Blelack Blacksmith Y291, from Bryan and Linda Ronan, Jerusalem Farm, Colby, Appleby.

This was followed at 2300gns for the three year old cow, Tegsnose Kathleen B070, and her bull calf by Tegsnose Kaharau B069, from breed vice-president, Nigel Hammill, Pyegreave Farm, Coalpit Lane, Langley, Macclesfield, Cheshire, to W Henderson, Village Farm, Whitburn, Sunderland, who also paid 1450gns for the two year old heifer, Crook Rise Riona C115, by Haymount Goldino Z650, from G and M A Lawn, None-Go-Bye Farm, Grassington Road, Skipton, N Yorks.

A two year old heifer, Cragg Lady Mamie D029, by Fordel Eisenhower Y423, from Mrs J B Swires, Cragg House Farm, Wilsill, Harrogate, N Yorks, sold for 2000gns to Northern Ireland breeder, Jim Jack, Cavanaleck, Fivemiletown, Co Tyrone.

Other prices included 1700gns for the yearling heifer, Yearsley Pendle D036, by Netherton Fabulous Cruz Y300, from Adrian and Penny Johnson, Clarence House Farm, Yearsley, Brandsby, N Yorkshire, to Paragon ET, Hexham, Northumberland; 1600gns for the two year old, Foulness Madison Bell C027, by Haymount Gertono Z525, and her bull calf by Hayrish Prime Cruz, from Chris Page, Oak Tree Farm, Carr Lane, Newport, Brough, E Yorks, to H M and D P Vaughan and Sons, Pantycabal, Haverfordwest, Pembrokeshire; and 1300gns for the two year old, The Moss Beauteous Maid C332, by MVF Stockman 15K, from John and Jane Moores, North Moss, Formby, Lancs, to Hamish and Margaret Sclater, Denhead Farms, Dunlugas, Turriff, Aberdeenshire.

Averages - six cows served and/or suckling £2018.75, five served heifers £1575, seven maiden heifers £2145.

Aberdeen-Angus in demand at Border Blacks sale