05/09/05

Border Texel Group members who are selling their rams at the annual Kelso Ram Sale on Friday (Sept 9) have been proving that quality pays.

Donald MacPherson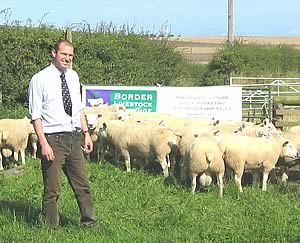 Group members Ronnie Symm and Donald MacPherson will be selling shearling rams in ring 11 at the event through Border Livestock Exchange.
Border Livestock Exchange's auctioneer James Logan will be conducting the second annual sale for the group when 391 pedigree Texel rams come under the hammer in ring 11 starting at 1 0am.
At 6pm on Thursday evening the entry will be judged by farmer and meat wholesaler Jim Holden, of Bury, Lancashire
Former group chairman Donald MacPherson, who will be selling 33 shearling rams and nine tup lambs at the sale, said: "Our aims are quality and good marketing of our stock. Our 20 members intend to supply what the customer wants - sound commercial sheep."
"Last year our ring was second top for averages and numbers sold."
Group member Ronnie Symm's Callerton flock has been performance recorded for many years and he believes that the north's commercial producers are increasingly looking to figures to back up conformation and visible traits in selecting their stock rams.
Mr Symm established his Callerton flock from one of the first importations of Texels in 1974 and now he and his son Malcolm run 120 pedigree ewes at East Town Farm, Milbourne, Ponteland, selling around 60 shearling rams as well as a few ram lambs each year.
The flock was first recorded under the Texel society scheme and then continued with the scheme run by the Meat and Livestock Commission.
"Northumberland beef farmers when they go to buy a bull take a lot of notice of its beef value figures, but the same farmer going to Kelso to buy a ram for a lot of years was generally not taking into account the sheep's figures, instead used a visual appraisal," said Ronnie Symm.
"I think that is changing and the commercial farmers are now taking note of the figures, thanks in part to the simplification of the system."
Proof, he says, was in the sale of a ram lamb at the recent Scottish national breed sale in Lanark which sold for 4,000gns to three North Yorkshrie breeders whose flocks are also recorded and who sell pedigree stock.
Another ram lamb sold at the Worcester national sale for 1,500gns to a Norfolk pedigree breeder who was also looking for a sire with good figures.
The majority of the Callerton flock's rams are above breed average on performance figures.
That the index has consistently increased over the years that the scheme has been running is proof of its success for Ronnie Symm.
"The system takes into account a combination of growth rate, depth of muscle at the loin and lack of excess fat at the loin. Both the former parameters have increased while the latter has remained constant. If it didn't work the figures would not have altered over the years," he said.
Callerton ewes and ewe and ram lambs are all scrapie tested and while purchased rams generally are selected as genotype group one, consideration is given to conformation and performance - and this selection criteria has been applied in retaining breeding ewes.
Three quarters of the flock, which has been closed for many years, are group ones. Twenty two Callerton shearlings will be sold on Friday.
Mr MacPherson has scaled back his Texel flock numbers to 74 breeding ewes with a change in his farming operation.
He and his family have bought Castlehills farm on the edge of Berwick, close to the tenanted Baldersbury Hill which soon they will be relinquishing to concentrate on their direct meat selling venture.
Their Well Hung and Tender business was launched almost four years ago and now supplies home-reared Aberdeen Angus beef, along with some home produced lamb, through six monthly regional farmers' markets as well as two weekly farmers' markets in Edinburgh.