02/09/05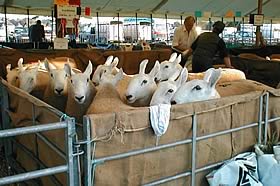 At this year's oldest and biggest one day sale of rams in Europe - the Dectomax Kelso Ram Sales at Kelso on Friday September 9 - 6,726 rams will come under the hammer.
Nine north of England and Borders auctioneers will be selling in 18 different rings for 489 consignors.
Last year for the first time Texels were the most numerous breed among the 13 breeds and crosses but this year Suffolks have regained the upper hand with a total of 2,393 entries with 2,204 Texels.
There are 635 Bluefaced Leicesters, 418 Charollais, 326 Lleyn, 132 Beltex, 140 North Country Cheviot, 129 Border Leicester, 38 from four other Pure Breeds and 311 Crosses. For the first time 222 crosses with MV accredited status will be sold in the accredited section when formally all crosses were sold in the non MV accredited section.
Overall, entries are down on the year by 206 rams although well up on the two years before 2004.
Buyers included in the 8,000-plus crowd which attends the event from all over the UK and even the EU generally result in more than £2 million changing hands.
This year the 168th ram sale since the first in 1838 when 120 Cheviot and Border Leicesters sold for between £3 a £4 each compared with last year's average of £427.13p for 5717 sold, a 88 per cent clearance from the entry of 6932.
The Border Union Agricultural Society which stages the event at its Kelso showground, will be erecting seven 80ft double marquees and four 40ft marquees to house the sheep under a total of 193,900 square feet of canvas.
Entries are from as far afield as Eire, Ulster, south Wales, Worcestershire, Lincolnshire, north of England and all parts of Scotland, including a new Consignor from Orkney.
"The Border Union strives to continue providing the best facilities possible for both the vendors and the buyers at the ram sales. This sale is unique and each year interest grows with numerous new enquiries. The early harvest and generally better grain quality could give some general confidence," said Ronald Wilson, secretary of the Border Union Agricultural Society.