Milk Marque members say "yes" to £15m conversion
27/09/05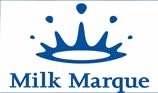 A clear majority of the eligible members and former members of dairy co-operative Milk Marque has approved a change of legal status that will convert the organisation into a private limited company and rule changes to facilitate the issue of £15m nominal value of capitalisation shares.
The result of the vote was announced at a Special General Meeting of Milk Marque held at Worcester Rugby Club today (September 27th 2005). To clear the hurdle to conversion, at least 50% of Milk Marque members had to vote and 75% of those voting had to be in favour for the conversion. In the event, 63% voted and virtually 100% of those voting were in favour.
"This has been a great result for our members," said Milk Marque Chairman, Roger Evans. "It means that the co-operative can now convert to a private limited company and that retained profits can be distributed in the form of equity shares. Had the vote been lost our members could have lost all that money.
"By converting and issuing shares we can maintain long-term contributions to the Milk Industry Pension Fund out of our trading operations, create shareholder value for members and invest the equity they hold in Milk Marque in viable, profitable businesses with the ultimate aim of earning dividends. We always believed this to be the most appropriate way forward for the business and the Board is delighted that Milk Marque members have supported it."
The change, which still has to be ratified at a Second Special General Meeting in two weeks time, will:
· Enable Milk Marque to cease to be a members' co-operative registered under the Industrial and Provident Societies Act
· Allow Milk Marque to be registered as a private company limited by shares
· Facilitate the allocation of shares to members and eligible former members in place of the deferred profit distribution to which they were entitled
· Put the Board of Milk Marque in a position to use the £15m of deferred profit to invest in other profitable and viable businesses probably within the agri-food sector.

Registration of the new company should be completed by the end of November and share certificates issued in January 2006 or earlier.
The Milk Marque board will begin the process of assessing investment opportunities once the changes have been ratified.