Milk Marque members to vote on £15m conversion
02/08/05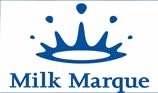 All 10,149 members of Milk Marque are being asked to approve a change of legal status that will convert the organisation into a private limited company and rule changes to facilitate the issue of £15m nominal value of capitalisation shares to members and eligible former members.
But unless at least 50% of Milk Marque members vote at the first of two Special General Meetings, and 75% of those voting are in favour, the conversion cannot take place.
A "Yes" vote - in favour of the resolutions to convert and to facilitate the capitalisation - will ensure that members and former members entitled to the profits from the last year of mutual trading will become holders of equity shares in Milk Marque. There is the future possibility of those shares acquiring value and paying dividends when a new business has been acquired. Should the vote fail, Milk Marque is likely to have to wind up and, in that event, its funds will probably have to be paid to the Milk Pension Fund and will be lost to members.
"Milk Marque is faced with a stark choice," explained MM Chairman, Roger Evans. "As an IPSA co-operative we can't trade with anyone other than our members. Under pensions legislation we also have a commitment as a co-employer under the Milk Pension Fund that means that, if we wind up Milk Marque, a payment would have to be made to cover any shortfall in the Fund. That would probably leave nothing for members. "By converting and issuing shares we can maintain long-term contributions to the Pension Fund out of our trading operations, create shareholder value for members and invest the equity they hold in Milk Marque in viable, profitable businesses with the ultimate aim of earning dividends. We believe this is the most appropriate way forward for the business and hope that Milk Marque members will support it."
The change will:
· Enable Milk Marque to cease to be a members' co-operative registered under the Industrial and Provident Societies Act
· Allow Milk Marque to be registered as a private company limited by shares
· Facilitate the allocation of shares to members and eligible former members in place of the deferred profit distribution to which they are currently entitled
· Put the Board of Milk Marque in a position to use the £15m of deferred profit to invest in other profitable and viable businesses probably within the agri-food sector.
"Given the circumstances we are sure that the co-operative should not be wound up but should, instead, trade on through an acquisition or merger with another viable, profitable company with growth potential. That way our members and eligible former members will benefit from an ongoing investment and will have shares in an ongoing business.
"In order to make this happen, Milk Marque has to go through a procedure which involves capitalising and distributing the remaining undistributed profits as shares and converting Milk Marque into a private limited company. Conversion requires two Special General Meetings to be held - at the first meeting at least 50% of the membership MUST vote - in person or by proxy - and 75% must be in favour.
"I am writing to every member to ask for their support at those meetings by filling in the proxy forms enclosed with the Circular to appoint me as their proxy. I will be voting YES for the motions.
"If we can deliver a positive vote we will take the only action possible that gives members and eligible former members any hope of receiving further value from their interest in Milk Marque. It will allow us, crucially, to continue to meet our ongoing commitment to the Milk Pension Fund - a course of action that meets with the approval of the Fund's trustees. Should we be forced to wind up Milk Marque, it will obviously have to withdraw from the Milk Pension Fund and make a payment to cover any shortfall in the Fund. Members will probably receive nothing," said Mr Evans.
The Circular and proxy forms are to be mailed to members on 1 August. The proxy forms for the First Special General Meeting must reach the registered office by 11am on 24 September; those for the Second General Meeting must get there by 11am on 9 October.